Civic Tech Institute Program
The program will empower leaders in the social sector with data and technology skills.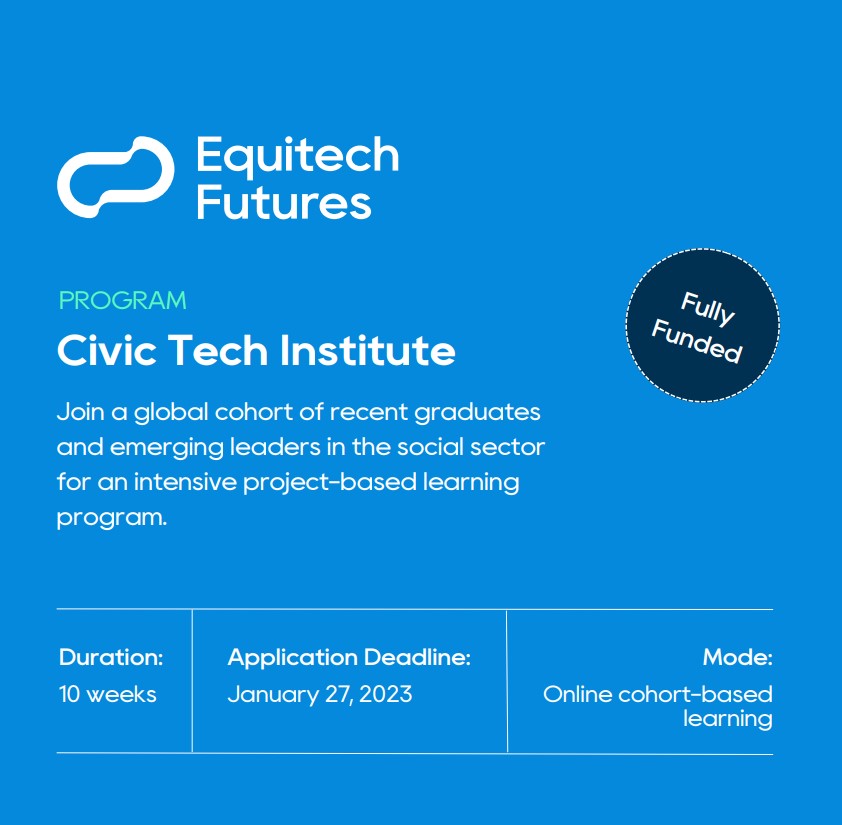 The Civic Tech Institute at Equitech Futures has launched a program to empower leaders in the social sector with data and technology skills critical to achieving impact at scale. It is a 10-week program designed for recent graduates and emerging leaders in the social sector.
Why should you join the program?
Accessible from anywhere – They offer live, virtual, project-based courses delivered in small cohorts. These courses are designed to use cutting-edge science and technology tools to tackle societal challenges. 
Problems-focused approach – You will learn data skills within the context of social issues like climate change, and public health. 
Tools to Accelerate your career – It will advance your career by giving you varied perspectives to make the best impact.
What will you learn?
Civic Challenges
The goal of this course is to gain a fundamental understanding and the most up-to-date information on the most pressing current civic challenges. Seminars will provide a thorough grounding in the fields of climate, health, and networked societies. Examples and projects will provide real-world context to these challenges.
Civic Tech Toolkit
If you want to develop effective policies for a city government, run an impact evaluation for your nonprofit, or develop a new technology tool for social impact, this course will help you build a data toolkit key to solving a wide array of problems in civic tech.
Community Action Lab
Through projects and exercises, you will learn about the community we carry with us, the communities we encounter, recognizing social imaginaries, cultivating empathetic imagination, using a critical response process, and utilizing storytelling to navigate conflict.
Writing Lab
To be impactful data-savvy leaders, you need to clearly communicate your ideas in diverse professional settings. The Writing Lab will teach you to be an impactful communicator through refining articulation.
Eligibility Criteria 
Completed a bachelor's degree
Must be an early to mid-career professional 
Willingness to commit 20-25 hours per week over 10 weeks of instruction
Women, Individuals from underrepresented communities are strongly encouraged to apply.
Logistical details
Deadline – 1st February, 2023
Course Timeline – February 27 – May 12, 2023
Fees – Fully Funded Program