Women, Business and the Law 2023
Source – World Bank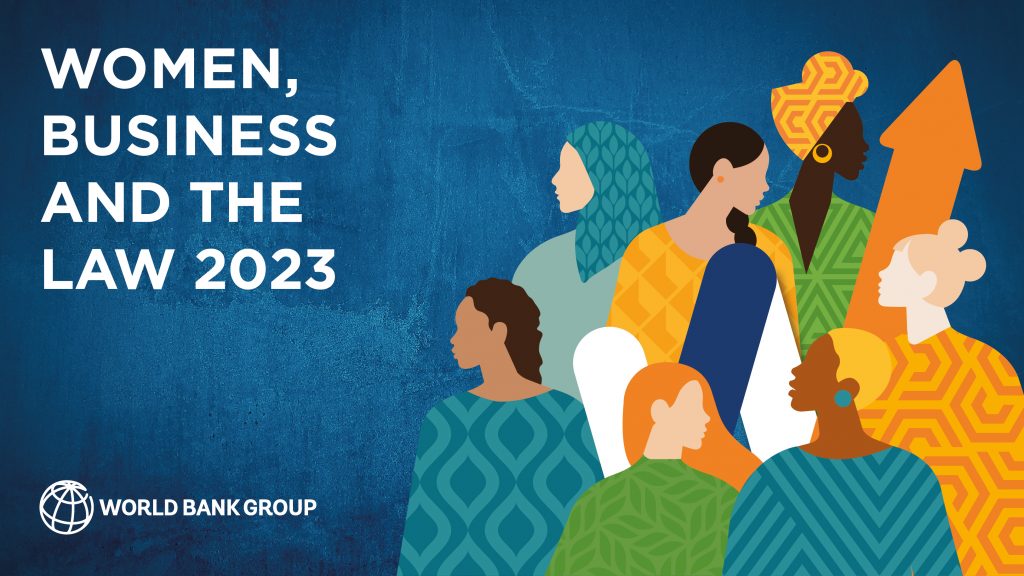 World Bank has released a report titled 'Women, Business and the Law 2023' to understand the barriers to women's economic participation and encourage the reform of discriminatory laws. The report analyses the economic decisions women take throughout their working lives and examine the laws to see if they act as a catalyst or barriers to their economic empowerment.
Indicators to measure Laws for Women
Following are the indicators used to measure the legal rights of women in the 'Women, Business and the Law 2023' report. It is structured around women's interactions with the law throughout their lives and careers. Aligning with these indicators, we will also see the status of the countries performing under each indicator.
Mobility – Examines constraints on freedom of movement
Worldwide 55 economies still limit freedom of movement for women. Two countries that scored 0 under this indicator were the Islamic Republic of Iran and South Sudan.
Workplace – Analyses laws affecting women's decision to work
Sexual Harassment in the workplace and lack of fair employment opportunities are the major hurdles for women in the workplace. 69 economies face obstacles in choosing whether to work or not.19 economies cannot get a job in the same way as a man.
Pay – Measures laws and regulations affecting women's pay
97 economies have a law that mandates equal pay for an equal value of work. But there is still room for improvement for 119 economies to contribute to reducing the gender pay gap.
Marriage – Assess legal constraints to marriage
28 economies still restrict women from being head of the household in the same way as a man. In 46 economies, women find it difficult to obtain a divorce in the same way as men.
Parenthood – Examines law affecting women's work after having children
There is a positive correlation between maternity leave and female employment. 72 economies do not mandate paid maternity leave for 14 weeks as set out by the ILO.
Entrepreneurship – Analyses constraints on women's starting and running a business
Access to credit is essential in starting a business and it is estimated that there is an unmet demand of US $1.7 trillion for female entrepreneurs. Out of 190 economies, two economies – Equatorial Guinea and Eswatini cannot sign a contract in the same way as a man.
Assets – Consider gender differences in property and inheritance
Women's possession of assets plays a role in churning out an economic output. 76 economies still restrict ownership of property by women. 43 economies still do not grant equal inheritance rights to male and female spouses.
Pension – Assess laws affecting the size of a women's pension
Career interruptions have a major impact on the pension received by women as compared to men. Only 107 economies account for periods taken off to care for the children. If the gap is not taken into consideration then the pension level lowers considerably.
Position of South Asian Countries
Following are the scores of South Asian countries across some of the parameters. The scores are out of 100.
India – Overall score – 74.4 (Pay – 25, Parenthood – 40, Entrepreneurship – 75)
Bangladesh – Overall score – 49.4 (Pay – 25, Parenthood – 20, Entrepreneurship – 75)
Pakistan – Overall score – 58.8 (Pay – 50, Parenthood – 20, Entrepreneurship – 75)
Bhutan – Overall score – 75.0 (Pay – 100, Parenthood – 40, Entrepreneurship – 75)
Taliban Administration in Afghanistan
The interim Taliban Administration in Afghanistan has issued guidelines that restrict women's freedom of movement and ability to secure employment opportunities. The government has restricted women the basic rights to education and banned them from university education. Women are also banned from working outside of their homes. Women in Afghanistan's mobility patterns have been restricted hugely where they cannot travel outside of their country in the same way as men.
The economies of the world still have a long way to go to match the legal rights of women with men. Some economies like Afghanistan have taken a step back in advancing gender equality. This can restrict the progress to achieve SDG 5 (Gender Equality). The economies need to strongly push for legal reforms to attain legal gender equality.
You can read the full report here!