How can we use Data for Sustainable Social and Environmental Change?
Source – 2023 Data for Social Impact Report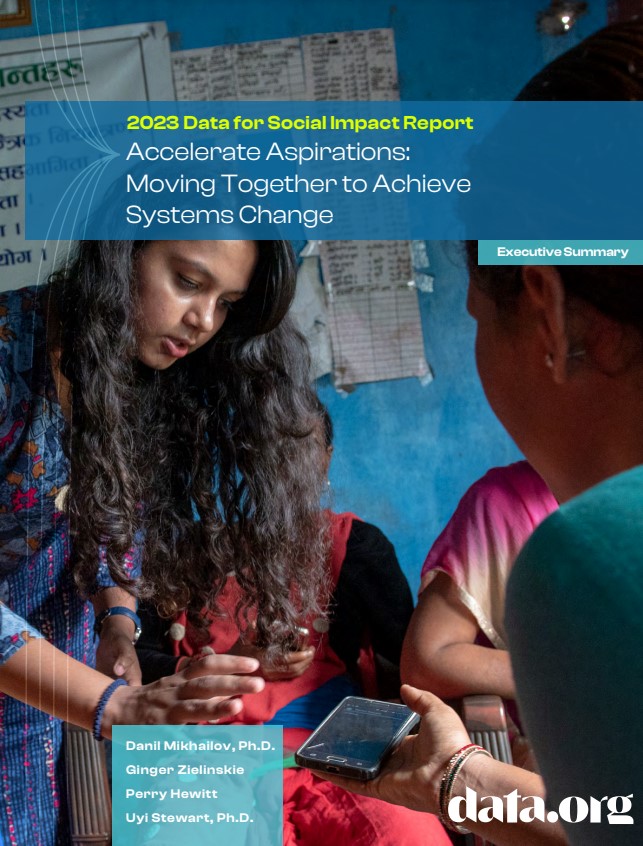 Data.org has launched the '2023 Data for Social Impact Report' to bring visibility to the nascent field of data for social impact, explore the potential to accelerate the strategic growth of this sector and offer recommendations for how to dramatically apply, govern, share, fund, and expand access to purpose-driven data around the world.
The report explores the field across three categories – Purpose, Practice, and People by highlighting opportunities, challenges, and risks in each category. This article will highlight the key findings of the report across these categories.
Purpose
The purpose category analyses the usage of data for social and environmental change by social impact organizations (SIOs).
Opportunity – The report highlighted that despite a gap in global connectivity, low and middle-income countries have digital connectivity through web-enabled mobile phones and smartphones. This rise in digital connectivity has increased the usage of AI-based interventions and solutions by SIOs.
Challenges + Risks – Only 22 percent of SIOs have achieved high data maturity. Also, the usage of data in interventions is program specific as against focusing on systemic solutions that result in long-term sustainable impact.
Path Forward – The report recommends having greater access to digital public goods that SIOs can utilize for data analysis. From a funding perspective, the report highlights the need to persuade the funder for long-term sustainable funding to be able to strengthen capacities in infrastructure and talent.
Practice
The practice category explores how (SIOs) collect, access, and use data.
Opportunity – The report throws light on the need of sharing data, infrastructure, and data talent to establish a scalable impact. This has to occur cross-sector as various thematic areas have interdependent variables.
Challenges + Risks – While there is a common understanding on foster collaboration for data usage, the risks that arise are the right to privacy, and personal data projection with a lack of coordinated global governance and regulation.
Path Forward – The report recommends investment in innovative networks, co-creation of data networks with community partners, and establishing a global framework to implement ethical AI technologies.
People
The people category examines how to grow and support the talent, leaders, and training for data for social impact.
Opportunity – The report emphasizes creating a data talent workforce that is highly skilled, diverse, and interdisciplinary that can advance the sector towards more effective and scalable solutions.
"Further constricting the talent pool is a mismatch in expectation on the part of employees and employers. It means we're losing people in the leaky pipeline," notes Satyam Vyas, Founder, and Chief Executive Officer of Arthan, which works to build capacity and strengthen systems for social impact organizations. "Even mature organizations don't have strategies or environments in place to not only hire the right form of talent but to sustain them with the right set of work."

Source – 2023 Data for Social Impact Report
Challenges + Risks – It is found that SIO leaders understand the need for data talent but a lack of resources leads up to less allocation towards it. The report also highlights that the data collection lacks local understanding and context where communities should have been central in building those data sets.
Path Forward – The report recommends building data infrastructure and solutions informed by and supported by the local community, building a data talent workforce, and further building skills of data practitioners already working in SIO. This has to be done by centering Inclusion, Diversity, Equity, and Accessibility (IDEA) to make the data sets cater to all forms of interdependent variables.
You can read the full report here!