Unbundle Policing Accelerator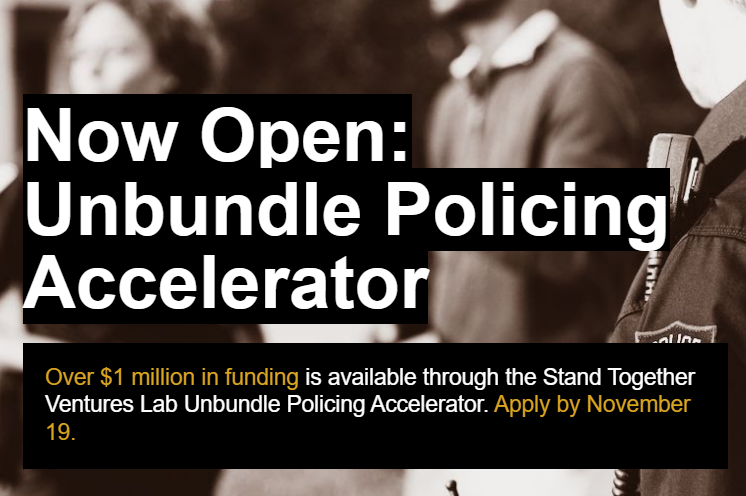 In partnership with MIT Solve, Stand Together Ventures Lab is launching the Unbundle Policing: Reimagine Public Safety Challenge–an Incubator and Accelerator for social ventures focused on decreasing unnecessary law enforcement encounters and resulting adverse outcomes. By launching this Challenge, Stand Together Ventures Lab aims to accelerate a range of better alternatives for point-of-crisis situations otherwise likely to result in an unwarranted police encounter, emergency room visit, incarceration, injury, or death.
The Stand Together Ventures Lab Unbundle Policing Accelerator is now open! The Accelerator is a six-month wraparound support program that will provide an immediate $50,000 per accepted team to deploy or scale much-needed solutions that reduce adverse law enforcement encounters across the United States. Select teams may receive additional funding or investment post-Accelerator from the over $1 million available.
This Challenge is looking for a wide range of solutions, such as:
Alternatives to deploying police response to 911 calls or traffic enforcement that don't require armed responses, whether a noise complaint, car accident, or other incident;
Alternatives to police-enforced legal sanctions, particularly those related to mental illness or substance use disorders;
Increased transparency, public input, and evaluation of police goals and functions within a community;
Improved approaches to recruiting, training, evaluating, and supporting police officers in their roles;
Better coordination between police, healthcare, and community-based organizations;
Other alternatives or approaches that help reduce the number and risk of adverse encounters and/or that support the ability of police to focus on core threats to public safety.
To apply click here, Submit your application by November 19