LEAD Fellowship
The fellowship will equip and empower women leaders in global health.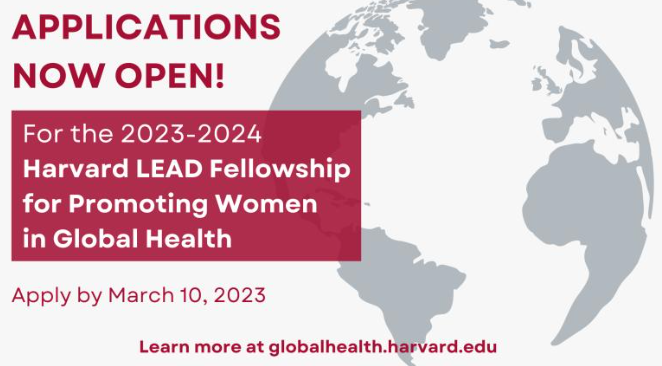 Harvard Global Health Institute has launched 'LEAD Fellowship' to equip and empower women leaders in global health. The fellowship is designed to promote leadership skills in individuals from low- and middle-income countries who will, in turn, mentor future female leaders in global health.
What's in it for you?
The following are the core pillars of the fellowship.
Executive Leadership Training
You will receive executive leadership training with a personal coach
1:1 mentorship
Each fellow will be assigned two Harvard faculty mentors with aligned interests. After the introduction, fellows meet monthly with their mentors throughout the 12-month fellowship period. These meetings will allow fellows to receive formal career advice, expand their networks and spark collaboration opportunities.
Speaking Opportunities
Fellows will have the opportunity to speak at global health events throughout the fellowship period and beyond. Speaking opportunities will allow the fellow to build networks, showcase their work and enhance their public speaking skills as a leader.
Enrollment in Harvard Courses
Fellows will enroll in various Harvard courses, depending on their interests like Emerging Leaders Program, Women in Power, Women Leading Change, and Leadership Development in Global Health, among others.
Private Skill building workshops
Fellows will attend leadership workshops exclusively designed for the LEAD fellows. These small, highly interactive sessions address key leadership skills and are led by experts from Harvard and the global health community. Some include Self – Promotion, Navigating Bias and Designing Equitable Organizations as a Women Leader, Crisis Management, and Leadership, among others.
Eligibility Criteria
Full-time 15 years of professional experience working in the field of global health
Candidates across continents, regions, disciplines, sectors, and gender identities can apply.
Must have the employer's support and take leave of absence during in-residence fellowship experience.
Logistical details
Deadline – March 10, 2023 by 5 PM EST
Fellowship Duration – September 1, 2023 to August 31, 2024.