Africa-Asia Impact Investing Fellowship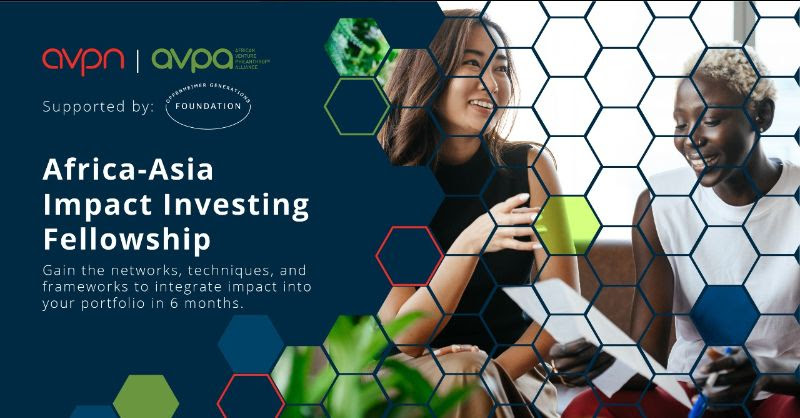 Social investment networks, AVPN and AVPA, will be launching the inaugural Africa-Asia Impact Investing Fellowship to nurture asset owners and capital managers into becoming effective impact investing practitioners. Leveraging strong networks in Asia and Africa, this fellowship will build the capacity and knowledge of fellows in areas such as innovative finance, impact management and leadership in complexity. The Fellowship aims to ultimately increase the flow of social investment capital into Africa and Asia.
Fellowship Benefits:
Become an impact investing practitioner– Develop know-how and gain tools to apply an impact lens to your investing strategy
Grow your network– Build rapport with leading practitioners in Asia and Africa and explore collaboration opportunities
Understand latest regional and Global Trends– Be immersed in a strong impact investing network and deepen your knowledge
What is the Fellowship about?
The Fellowship will select 30 individuals in Asia and 30 individuals in Africa who embody the values and skills needed to develop a strong impact investing sector. It will then work with these Fellows to build their capacity to ensure that they have the right information and resources, knowledge and insight on how to build an impact strategy, manage a portfolio, define, evaluate and manage impact, among other skills.
Who should apply?
The Fellows will consist of Private Equity and Venture Capital Fund managers, Foundation Directors, Family Office Princicaps/Directors, NextGen Leaders, Incubators and Accelerators; those who have access to significant capital, or have responsibility for large investment portfolios and are used to managing assets of high networth individuals, families or funds. These individuals are either deploying or intend to deploy capital with an impact investing lens.
Registration will close on 18 August 2021.
To apply now, click here