Gender-Related Violence Report 2021
The Report highlights the global estimates of gender-related killings of women and girls in the private sphere in 2021.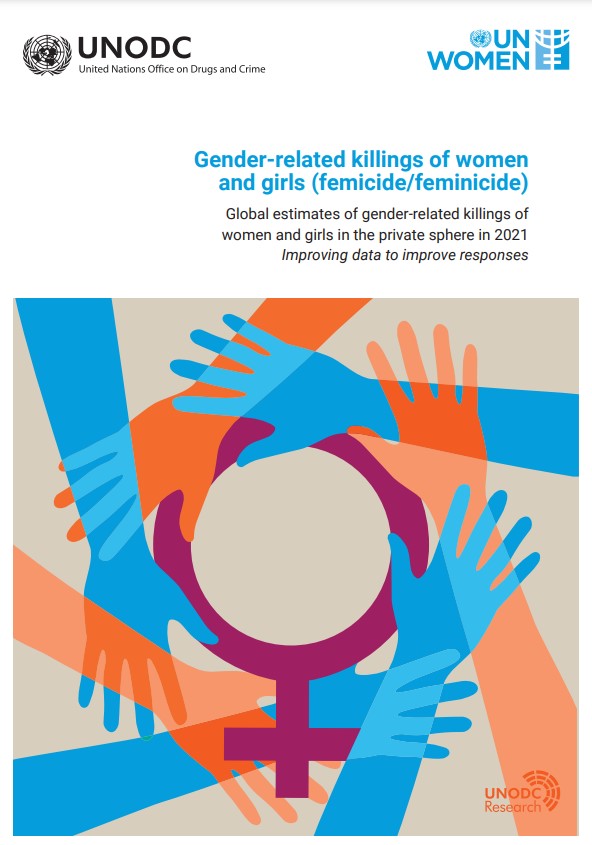 In collaboration with United Nations Office on Drugs and Crime, UN Women released a research paper titled 'Gender-related Killings of Women and Girls'. It highlights the global estimates of gender-related killings of women and girls in the private sphere in 2021.
Here are some of the revealing data sets from the report
In 2021, over 45,000 women and girls were killed by their intimate partners or other family members. On average, more than five women and girls are killed every hour by someone in their family.
The most dangerous place for women and girls is their home. 56% of all female homicides are committed by intimate partners and family members in the private sphere.
4 in 10 female homicides globally remain unclassified. The reporting of gender-related killing often go misreported as sex-disaggregated data on homicide victims are recorded less frequently. Out of 193 UN Member states, only 133 countries had distinguished between male and female homicide victims.
2020 – A Deady Year?
The global assessment to test this hypothesis is not available due lack of availability of data. The data is only available for Europe and America. There was an increase in femicide in Western Europe (+13%) and Southern Europe (+5%). The increase in Northern America was 9%. The rest of the regions saw a decline in femicide. 2020 was a pandemic year and the decline is due to the lack of reporting and not necessarily because of a decrease in violence against women.
The impact of the COVID-19 pandemic and the subsequent lockdowns put women in the private sphere in a company with abusive partners. Women were unable to seek external help due to lockdowns. This has ended up in under-reporting of the violence cases.
Statistics From India
The gender-related violent deaths in India have seen a slight downfall but still remains significant. The major share of gender-based killings in India is dowry deaths.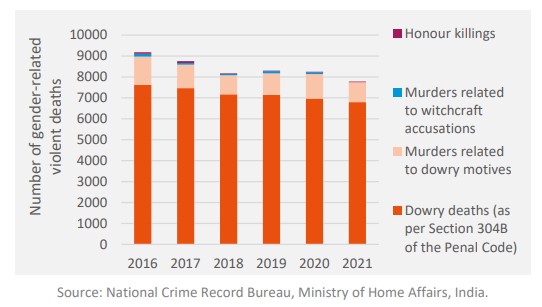 Policy Response
The gender-related killings are at an alarming rate with little sign of reduction globally. This needs heavy interventions to prevent violence and provide justice to victims. Here are some of the policy responses the report recommends. 
Data and Evidence – Ensuring improved data collection is an urgent priority for policymakers to target the right interventions.
Laws, Policies, and Protocols – Gendered perspective throughout the investigation and protection of indirect victims like children and other family members.
Survivor-Centered Response – Sensitive response by the justice system in gender-related violence. This will ensure the violence not escalating to killings and will improve the reporting of such cases.
Strengthening Civil Society and Women's Rights Organisations – Enough funding for CSOs that keeps advocating for policy change and provides psycho-social support services.
Prevention – Research on the drivers of gender bases killings and conducting mitigation efforts to sensitize society.
You can read the full report here!