Future of Work in India & Indonesia Challenge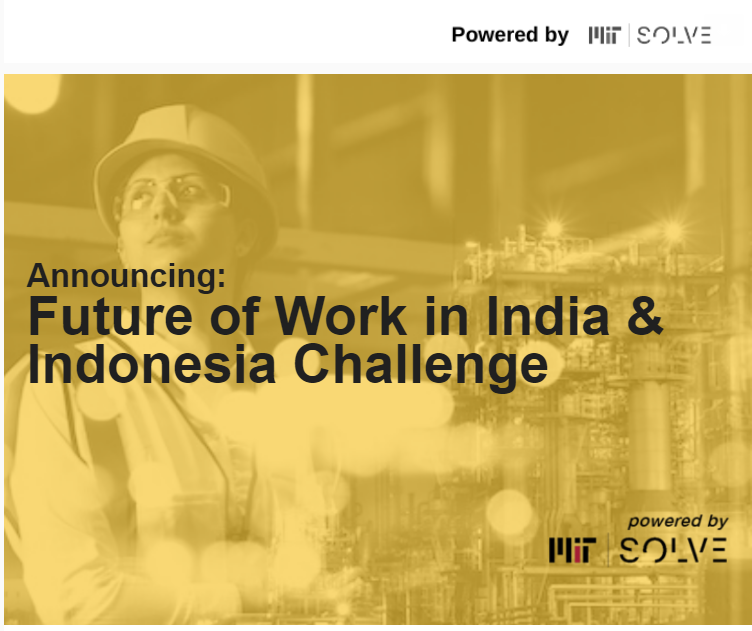 Do you have an innovative solution that can help workers in India and Indonesia gain the skills they need to participate and prosper in the digital and technology-driven economy of the future? The Caterpillar Foundation's inaugural Future of Work in India and Indonesia Challenge is offering nearly $400,000 in total prize funding for selected winners, along with access to a tailored support program run by MIT Solve and the Caterpillar Foundation.
By 2030, automation is expected to displace an estimated 23 million jobs in Indonesia, and nearly 70 percent of jobs in formal employment could be automated in India during the same period — including 12 million jobs held by women. However, if harnessed successfully, automation, artificial intelligence, advanced manufacturing, digital transformations, and other technology-driven innovations are expected to create more jobs over the next decade than are eliminated.
The Caterpillar Foundation is partnering with MIT Solve on the Future of Work in India and Indonesia Challenge to identify and support workforce development solutions that can lead to the digital upskilling and reskilling of the Indian and Indonesian populations. The Challenge is seeking innovative solutions that will:
Equip existing workers in India and Indonesia with country-appropriate and culturally-relevant digital literacy skills and vocational training opportunities
Connect the skills of the Indian and Indonesian workforces to the demands of employers
Increase and leverage the participation of underserved communities in India and Indonesia — especially women, low-income, and remote groups — in the creation, development, and deployment of new technologies, jobs, and industries
The Deadline to submit a solution is December 10, 2021.
To apply now, click here