D4GX 2021 India Empowerment Challenge – Leveraging Data to Create Transformational Impact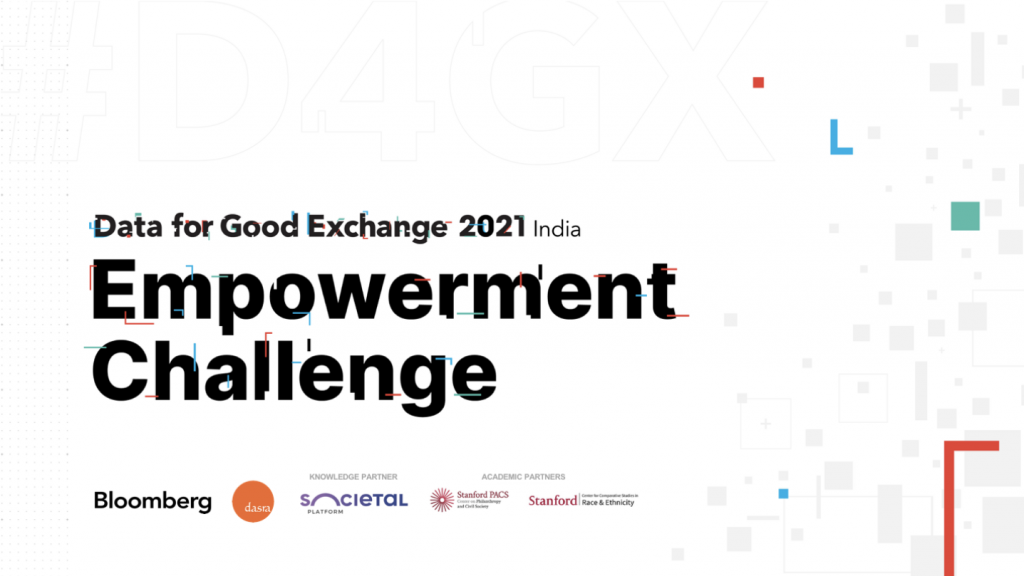 The pandemic has set India back on 10 of 17 SDG indicators and caused the biggest economic contraction in 80 years. As the country writes a narrative of rebuilding from this crisis, we believe that scaling social innovations that use data to create exponential change will be a crucial enabler to India's recovery.

To foster the growth of such high-potential solutions, we are proud to launch the Data for Good Exchange 2021 India Empowerment Challenge – a hunt for exceptional data-focused innovations that empower vulnerable communities, creating inclusive & resilient growth. This Challenge forms part of the larger series of events hosted under D4GX 2021 India, organized by Dasra, in partnership with Bloomberg, Societal Platform, and Stanford PACS, with the aim of using data and human capital to solve societal issues.

Winners across three themes – Data to enable equitable health services, Data to create urban resilience, Data to enrich learnings to livelihood transitions, will be awarded innovation design grants, mentorship support, and catalysing networks to further develop their innovations. ​
The 2021 Challenge looks for early-stage innovations that fall into the thematic tracks listed below:

Applications open until 7th September '21. Apply now!
To learn more about eligibility criteria and other information on Data for Good Exchange 2021, please visit d4gxindia.com