WHAT IS EIVOLVE?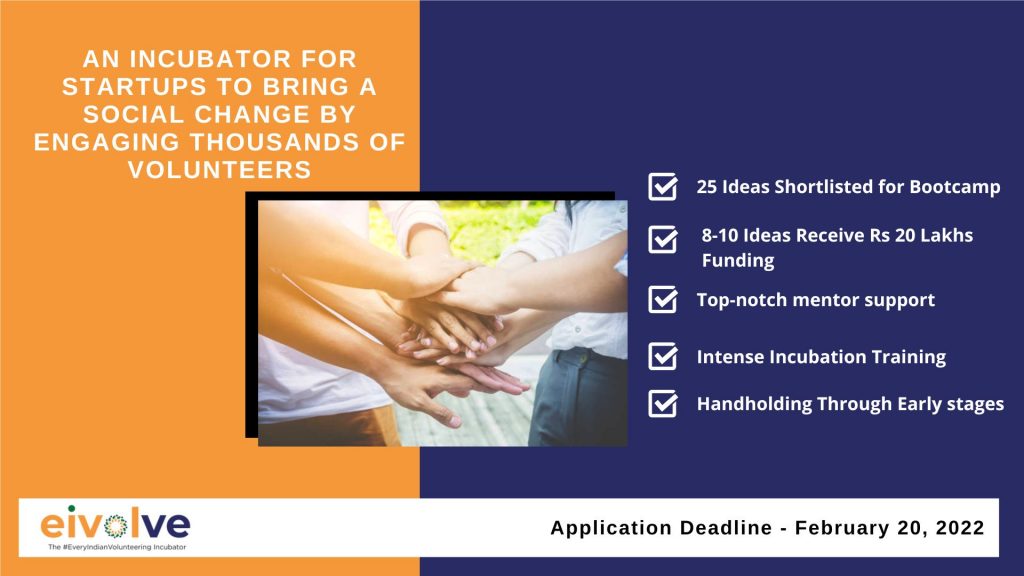 eivolve will incubate startup ideas that aspire to bring about significant social impact-driven through volunteers. 
Be it in education, environment, animal welfare, disability, child care, health, gender issues, civic engagement and citizenship, or any other cause, eivolve intends to support organisations that aim to engage thousands of volunteers as changemakers.
Volunteers could teach, spread awareness, participate in campaigns, run the operations of the organisation or play any other significant role in bringing about change. 
WHY VOLUNTEERING?
Long-term social change needs sustained work, not just by a handful of development professionals, but through the support of every Indian citizen. 
Volunteering allows citizens to understand social issues and the underlying systemic biases and challenges that prevent the poor from rising up. It helps them become part of the solution, instead of being part of the problem. 
When every Indian volunteers for a cause of their choice, we will build society's capacity to solve current and future problems, by creating citizens who care about issues and take responsibility to solve them. 
February 20, 2022 (Stage 1) : Applications close for Stage -1 on Feb 20th at 23:59 hrs, IST
To read more: Click here