Understanding data and statistics better – for more effective SDG decision making
Source – UNITAR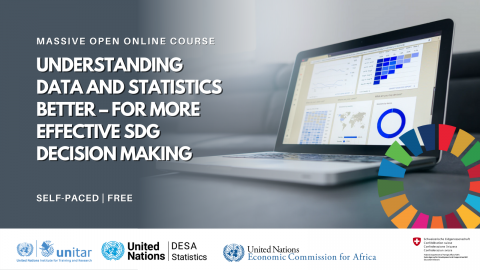 UNITAR has launched a course 'Understanding data and statistics better – for more effective SDG decision making' that aims to help improve the understanding of how better data can help design more effective public policies and brush up on core data skills.
The course covers aspects related to the interpretation, analysis, and presentation of data of direct relevance to the SDGs and more broadly national and sectoral policies aimed at ensuring sustainable and inclusive development. It introduces these topics using concrete examples of data use and public policy context from around the world.
What's in it for you?
Explain the importance of timely, quality, and disaggregated data for informing policies and decisions in support of the SDGs
Interpret and assess the fitness for the purpose of different sources of data depending on the objective and task at hand
Effectively and correctly communicate data to tell a story using tables, graphs, and maps
Identify potential data sources from among official, scientific, and new types of data for monitoring SDG indicators using a set of criteria
Discuss how data should be used to formulate evidence-based policies or conduct M&E activities.
Logistical Details
Location – Web-based
Type – Selfpaces course
Duration – 2-5 hours per module (There are 5 modules)