Hum Log: Active Citizenship and Civic Engagement in India
The report aims to understand the concept through civil society organizations and social enterprises.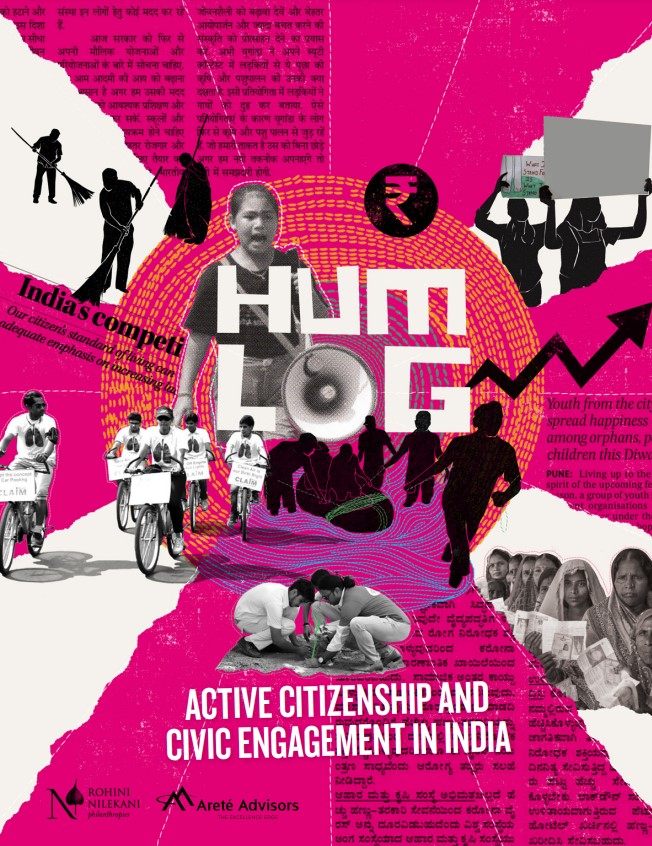 Rohini Nilekani Philanthropies released a report 'Hum Log: Active Citizenship and Civic Engagement in India'. The report aims to understand the concept of Active Citizenship through the lens of stakeholders like civil society organizations and social enterprises.
What is Active Citizenship?
The Government of India defines Active Citizenship as, "…encompassing social rights, social responsibilities, and social accountability." This active engagement of citizenship makes the government accountable in the policy-making process.
Following are the ways you can be an Active Citizen.
Volunteering – To participate in a public cause voluntarily. For example – beach cleanup, tree plantation, etc.
Claim Making – Empowering Communities. For example – empowering girl children to access educational opportunities.
Co-Creation – Civic Initiated Action. For example – participating in various committee meetings of local corporation bodies.
Electoral Participation – Participation in elections. For example – Voting, consultation with elected representatives, or standing up for elections.
Resistance – Protest and Mobilisation. For example – the Nirbhaya Protest in 2012 highlighted the issue of women's safety.
The report looks at the active citizenship narrative through Samaaj (here, CSOs, non-profits, social enterprises), Sarkaar (Government), and Bazaar (Markets). We will delve deeper into the role of Samaaj in Active Citizenship.
Samaaj in Action
The impact sector needs to be robust to create vibrant democracy and prevent the hegemony of the public and private sectors. The report analyzed 79 CSOs, non-profits, and social enterprises working in active citizenship space in India.
The report has distinguished these organizations into two following groups
Enablers – Fostering Active Citizenship through direct pathways like creating knowledge, supporting dissemination and amplification, etc.
Implementers – Create Direct Pathways to make citizens actively engaged.
Out of the total organization surveyed, 48% were implementers, 10% were enablers and 42% were working both ways for active citizenship.
To measure how organizations have contributed to the active citizenship domain, the report made a framework. It's the ACCA framework that stands for
A – creating Awareness
C – facilitating Connections
C – building Capacity
A – driving Action
ACCA Framework Results
Awareness
53% of organizations enable active citizenship through awareness where they inform citizens and amplify their voices. 51% of them were disseminators of information (Eg. Haqdarshak), 14% acted as amplifiers (Eg. Khabar Lahariya), 20% were knowledge creators (Eg. Pukar) and 14% were hybrid.
Connection
41% of organizations offer programs to create an interface for citizens to interact with each other or the government. 21 (Eg. Socratus Foundation) of them facilitate citizen-citizen engagement and 14 (Eg. Civis) facilitate Citizen-Government engagement.
Capacity
95% of organizations work in capacity building, particularly in leadership development. Eg. Netri (Political Leadership), Centre for Civil Society, Citizens for Public Leadership (Policy Leadership) and Yuva Shakti (Grassroots Leadership).
Action
56% of organizations help citizens to own the problem-solving process and directly implement solutions on the ground.
The report 'Hum Log: Active Citizenship and Civic Engagement in India' also delves into the thematic areas and geographies. It briefs you about the role of technology in enabling active citizenship and the negative determinants acting as a hindrance in advocacy.
You can read the full report here!