Climate Petition by rePurpose Global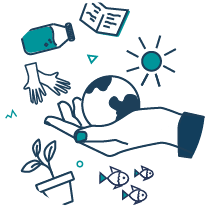 Together let's tackle the lack of diversity in the climate movement once and for all. Sign the petition and be the change! #ColorForClimate
About rePurpose Global
rePurpose Global is the World's First Plastic Credit Platform dedicated to making planetary action accessible to purposeful people and companies of any size, anywhere. We are led by a young and diverse team working across 11 countries, transcending barriers to create tangible impact.
There's no denying that minority representation is fundamental in championing climate justice. As the IPCC points out, climate change puts young, indigenous people and recent immigrants more at risk than others
The mainstream climate discourse has excluded the voices of people of color, indigenous communities and women for the longest time. The facts speak for themselves: in 2019, people of color comprised no more than 20% of all staff among USA's top environmental agencies, nonprofits and foundations, even though their actions and decisions have a colossal impact worldwide.
Today, rePurpose Global is asking the world to come together and fight whitewashing in the global environmental movement. Here's what we demand of policymakers, inter-governmental initiatives, sustainability organizations, and companies across the world: 
Demand #1 Introduce a Reality Seat on the board of every international environmental organization: Between 2017 and 2020, only one person of color and woman has been added to the board at top environmental organizations on average. We call for every international environmental organization to introduce a seat on their governing board for members of diverse identities. The seat should be occupied by people of color below 35 years who represent the concerns of an affected community linked to the primary environmental issues that the organization addresses.
Demand #2 Achieve fair representation of community interests at COP26 and ensuing climate negotiations: Currently, people of color are appearing in just 10% of climate coverage as of 2019. We call upon all international and regional climate negotiations such as COP26 to strive for equal representation at their forums. All expert panels on the global climate crisis should include women, people of color and different ethnicities. Debates on local and community-specific climate issues should also be led by members of those communities themselves. 
Demand #3 Make diversity a core pillar of climate finance strategy and accelerate grassroots-led innovations: At present, businesses led by women of color get less than 1% of VC funding every year. We ask key financial institutions and climate investors to develop and integrate a diversity lens within their environmental financing. They must develop minimum standards aimed at increasing investment in environmental innovations led by members of ethnic communities, minorities and women on the frontline. Accordingly, they must also track and report progress on their environmental investments' Diversity and Inclusion metrics on an annual basis. 
Demand #4 Shift the balance of scientific research and climate change reporting towards the Global South: Currently, the Global South represents only 25% of global ecological research, leading to a critical data gap necessary for science-based action. We demand all climate research organizations and think tanks to expand and allocate budgets to proactively focus on collecting and analyzing data from the Global South. Going forward, funding research infrastructure like satellite imagery should be a priority in developing countries that don't have enough resources to support such efforts.
Demand #5 Integrate a diversity lens within every corporate sustainability initiative: The decisions made by major Fortune 500 companies in the West have far-reaching implications worldwide. We urge the world's leading corporations to incorporate a diversity lens to represent the interests of members of all ethnicities and minorities in their sustainability initiatives and policies. Sustainability program developers must consult representatives from local communities whom their work impacts in order to map out the outcomes of their initiatives for marginalized populations and adopt failsafes to protect them against unintended consequences.
Demand #6 Invest in talent development of marginalized community members to diversify the sustainability sector: We must create a pathway for new ideas and solutions from excluded identities to enter the mainstream conversation. We advocate for higher education institutions and relevant government ministries across the world to launch and sustain skills training and apprenticeship programs that are aimed at improving networks of access and creating opportunities for young professionals of diverse ethnicities to join the global sustainability sector.
Demand #7 Develop a comprehensive framework for incorporating diversity into every facet of the climate movement: We call for key power brokers such as UN Environment to develop an Equality, Diversity and Inclusivity (EDI) framework aimed at integrating underrepresented groups within environmental policymaking and decision-making. This EDI framework must account for these groups' security, realities and challenges. All stakeholders must strive to adopt this framework to increase visibility and involve members of diverse groups at every stage and aspect of fighting our climate crisis.
Demand #8 Launch a Color for Climate Collective to nurture young leaders and amplify their voices in the global discourse: We call upon the world's five largest environmental NGOs (Nature Conservancy, World Wildlife Fund, Sierra Club Foundation, Environmental Defense Fund, and Greenpeace International) to work with rePurpose Global and create a democratic collective that identifies and nurtures diverse leaders of tomorrow. We envision for this collective to serve as a space for young people of color across the world to connect, collaborate, and communicate their concerns and innovative ideas to world leaders in business, politics, and science.