Women's Fellowships in Public Finance for Cities
Source – Janaagraha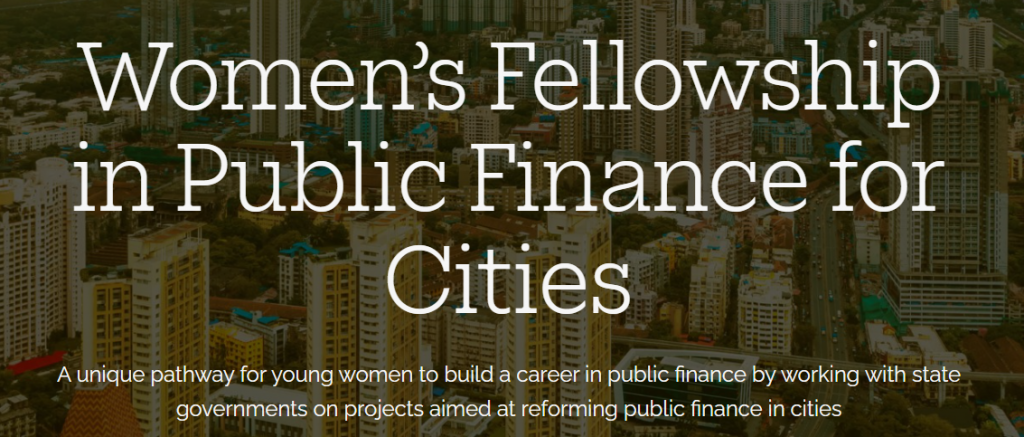 Janaagraha has launched Women's Fellowships in Public Finance for Cities which is designed to help women take the first step towards a career in transforming the quality of life in India's urban areas by reforming public finance for cities. The two-year Fellowship will have a Field Immersion Project where you will work on State Government-run reform projects while receiving training and mentorship to make the best of the opportunity.
This Fellowship will empower you as a woman in the public finance realm to influence the discourse and drive better gender outcomes across India's urban areas in the future. As a Fellow, you will work on Field Immersion Projects with senior state government officers to design and implement reforms in public finance. To set you up for long-term success, the Janaagraha Programme Team will support you throughout the Fellowship with a three-pronged framework comprising of Training, Mentoring, and Programme Support.
Fellowships Highlights
Work Opportunity – You get a two-year, full-time work opportunity with a competitive stipend.
Field Immersion – You will work in pairs on-site with state government officers in charge of live reform projects focused on Public Finance for Cities.
Induction Training – You will attend a three day residential workshop to get oriented and gain the foundation needed for your Field Immersion Project.
Mentoring – You will receive personal mentorship from domain experts relevant to the specific field that your project will be focused on.
Eligibility Criteria
You should apply for this Fellowship if you have:
An academic background in public policy, urban governance, economics, finance, business or other relevant fields
4-7 years of work experience and the willingness and ability to transition to public finance
We will consider profiles with minimum 2 years' work experience if you display the willingness and ability to transition to the public finance sector.
Logistical Details
Deadline – 12 October, 2023 
Fellowship Offer Rollout – By 10 November, 2023