Sambodhi launches MEL course for Development Professionals
This course seeks to enhance the skills of MEL in development professionals working for social impact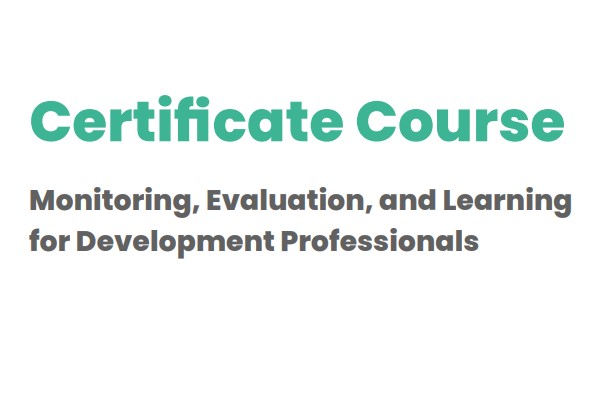 Sambodhi is offering an online certificate course for Development professionals in the Monitoring, Evaluation, and Learning domain. As we are close to achieving the 2030 SDGs, the organization believes that measuring developmental outcomes is crucial. This certificate course will facilitate the learning and enhance the skills of early and mid-career development professionals. The extent of measuring the impact is largely in Global South but there have been few practitioners in this domain. The organization seeks to bridge this knowledge gap through this course.
Course highlights
Conceptual clarity through the MEL practitioner's lens
Curated curriculum tailored for the Global South context
Cross-sectoral and cross-disciplinary approach with real-world examples
Platform for Peer-learning, networking, and collective thinking.
Course Andragogy
As the participants will be early and mid-career development professionals, the course has followed the adult learning principles. Some of them are as follows.
Participatory and Learning by Doing approach in the curriculum
Working on case studies
Group Discussion and structured group assignments on the sector of participant's interest areas
Designing of MEL plan for their case study
Course Learning Outcomes
Spread over the span of 5 months, the course consists of 9 modules. Following are the learning outcomes the course intended to achieve.
Nuanced understanding of MEL vocabulary, MEL in Program cycles, defining pathways of change
Usage of available datasets in constructing interactive dashboards
Keep pace with the contemporary trends in evaluation
Learning impact evaluation through design, methods and tools.
The course will also offer interactive workshops on the following topics
Quantitative Data Analysis
Visualization and Story Telling
Course Facilitators
Rajib Nandi – Vice President – Knowledge Management & Capacity Development
Akashi Kaul – Assistant Vice President – Research
Vijay Avinandan – Assistant Vice President – Research
Abhishek Sharma – Assistant Vice President – Research
Mahima Taneja – Senior Manager – Research (Moderator)
Course logistics
Duration: 29 October, 2022 to 18 March, 2023
Language: English
Mode: Virtual
Level of effort: 4 hours per week (Weekend Classes)
Eligibility: a) Development professionals with 1-6 years of experience b) Persons of all nationalities
Seats : 30
Fees: 700 USD (or it's equivalent to local currency)