Issue #1: The Women at Work Newsletter by Arthan
Women at Work (Arthan)
Building gender-inclusive organizations of the future.
Hello Readers,
We are absolutely thrilled to bring you the first issue of our brand-new Women at Work newsletter!
In this debut issue, we will walk you through the journey of Arthan's Women at Work initiative. Also, we will share the highlights from our recent summit 'Leaders for a Better World: Rethinking Social Sector Strategies' with a special focus on gender perspectives. Curated especially for you, we have also picked some important highlights and updates for women in, or looking to work in, the development sector. Without further ado, let's dive right in!
---
Our Journey…
Arthan's Women at Work initiative aspires to make organizations working for social impact more inclusive for women and thereby, increase women's participation in the development workforce, especially at mid-senior levels.
The initiative was conceived by the Women's Leadership in the Development Sector research conducted by Arthan in collaboration with The Rockefeller Foundation in 2020 and today, as a full-fledged initiative aspires to make the development sector more inclusive and conducive for women to join, grow and lead the workforce.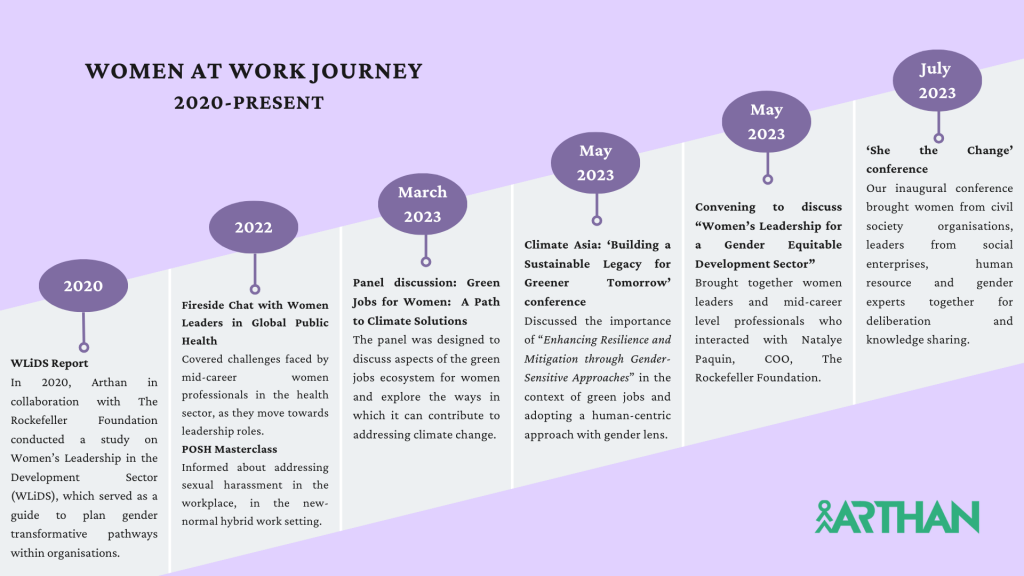 Our goal is to build capacity and provide support for the inclusion of both essential and effective practices within organizational frameworks to advance gender equity and inclusivity in civil society organizations.

For this we are building a platform and working on allied interventions that will provide:
Women at mid-senior levels with job, upskilling, mentoring and networking opportunities to grow into leadership.
Organizations working for social impact with assistance and resources to become more gender equitable in institutional improvements through sustained execution – policy, process, and practice programs.
---
Highlights from the 'Leaders For A Better World' Summit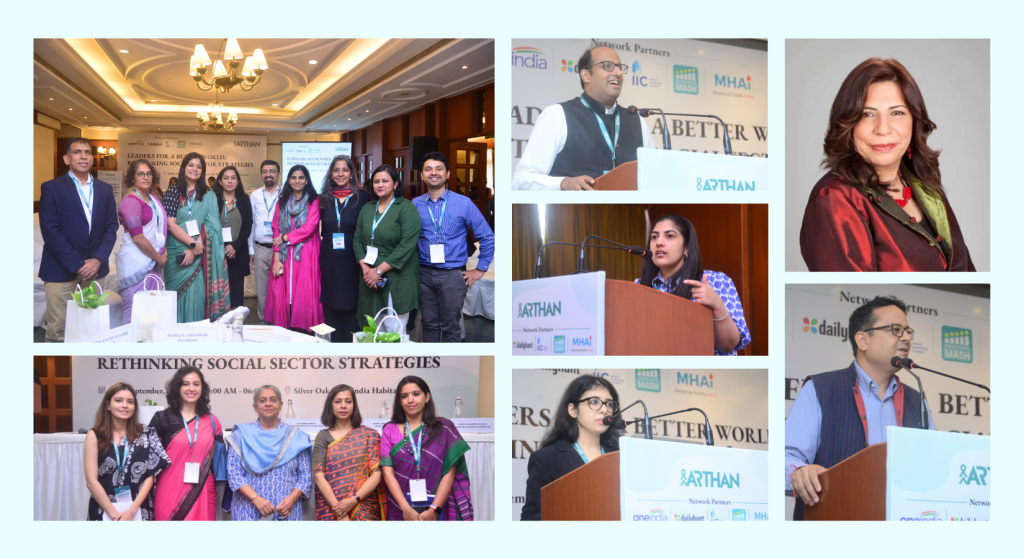 "Leaders for a Better World: Rethinking Social Sector Strategies," held on September 14, 2023, ignited significant dialogues about succession planning and organizational culture. Notably, the Summit featured a panel discussion on Strengthening Human Capital: Charting a Succession Roadmap for the Future of Social Impact Organisations and a Roundtable Discussion on Dynamic Culture Dialogues: Navigating Empathy, Entrepreneurship, and Empowerment in Today's Organizational Landscape. Following are the key highlights from these sessions:
Women's Leadership in the Green Economy: Women face barriers to senior roles in the green sector. Empowering them through STEM education, mentorship, networking, and workplace flexibility is crucial.
Gender Inclusion in Climate Action: Women are disproportionately affected by climate change and need a seat at the decision-making table. Inclusivity should be an ongoing effort, embracing diverse perspectives.
Inclusive Work Environment for Sustainability: Leverage the potential of a diverse workforce, including Gen Z. Leaders play a vital role in promoting inclusivity and aligning hiring with individual passions.
---
October Readings
Click on the creatives below to access the content for further reading and exploration.
---
Work Opportunities for Women
As part of our monthly Job Board release, we have listed some exciting job opportunities for women. Please follow the link to the google form to find the job descriptions and to apply:

Arthan Ecosystem:
*Our Talent Acquisition team is looking to close these roles soon!
Associate Director
Managing Director
Head of Curriculum
Lead – Fundraising & Partnerships
Manager – Scaling & Impact

Other Job Opportunities:
Research Associate
Senior Programme Manager, Government Engagement
Consultant – Social Media Strategy and Planning
Campaigner, Gender and Sexuality

Funding Opportunity:
4HerPower Challenge: Innovating for Sexual and Reproductive Health and Rights (For Young People)
---
Women-Worthy News of the Month
The parliament made a historic move and passed an amendment bill called 'Nari Shakti Vandan Adhiniyam'. The bill seeks to reserve one-third of all seats for women in Lok Sabha, State Legislative Assemblies, and the assembly of the National Capital of Delhi.
Some interesting facts relating to the Women's Reservation Bill:
The bill was first introduced in 1996 but failed to receive the required support. Multiple attempts were made to reintroduce the bill again in parliament within the next 15 years but all failed.
This bill is a crucial step for women's participation in policy making and development as it would significantly increase participation, with the current number of 82 female members in the Lok Sabha to go up to at least 181.
Many have supported the bill in the past and the idea of increasing women's participation in politics. Research has shown that women-led policy making is more responsive to needs of other women, especially at the rural and panchayat levels.
---
Conversations of Change – Transforming Thought Leadership in the Social Impact Space
Our Conversations of Change consists of video interviews with leading thinkers and practitioners from the field of social impact, and showcase perspectives and practices surrounding women's leadership in the development sector workforce. Episodes feature conversations with women leaders who are engineering positive change in the social sector through their work and words.
Our first conversation was with Heather Grady, Vice President and Practice Lead on Environment and Climate Change, Rockefeller Philanthropy Advisors. Check out the episode where she shares her career journey and milestones that paved her path to leadership positions.
---
Monthly Motivation
Spreading moods of motivation, one quote at a time!
"In shaping this new world, let us make sure that women are not just beneficiaries, but they are leaders, pioneers, and architects. Because a green economy led by both women and men isn't just a better economy, it's the only kind of economy that can sustain the planet we all share." – Deepali Khanna, Vice President, The Rockefeller Foundation
---
To discuss ideas, explore synergies, and co-create collaborative intent, interactions and interventions around women's leadership and gender-transformative workplaces in the development sector, write to us at letstalk@arthancareers.com.