Work Opportunities for Women, Insightful Readings, Impact Sector News and more: November Edition
Women at Work (Arthan)
Building gender-inclusive organizations of the future.
Hello readers,
We are happy to present you the second edition of our Women at Work newsletter. In this edition, you will discover exciting work opportunities, stay informed about our recent initiatives, catch up on social impact news, and read our insightful blogs – specially curated for women working in or aspiring to join the development sector. Let's dive into it!
---
From the Field Reflections…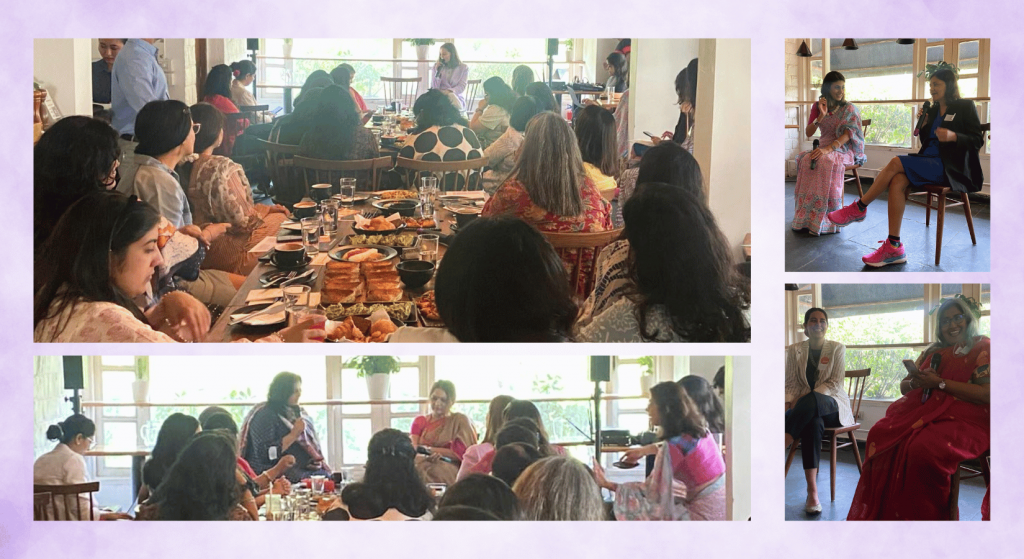 Our colleagues, Maathangi Mohan (Manager – Women at Work, Arthan) and Anchal Kakkar (Co-founder, Arthan), recently participated in the "Breakfast with (Gender) Champions" event hosted by Dasra on October 5, 2023, in New Delhi. Having gained valuable insights from these discussions, Maathangi shares some 'From the field' reflections on advancing gender equality in the workplace and empowering women to assume leadership roles.
(Estimated Reading Time: 3 minutes)
---
LinkedIn Audio Event – Job Talks: Vacancies in Social Impact Space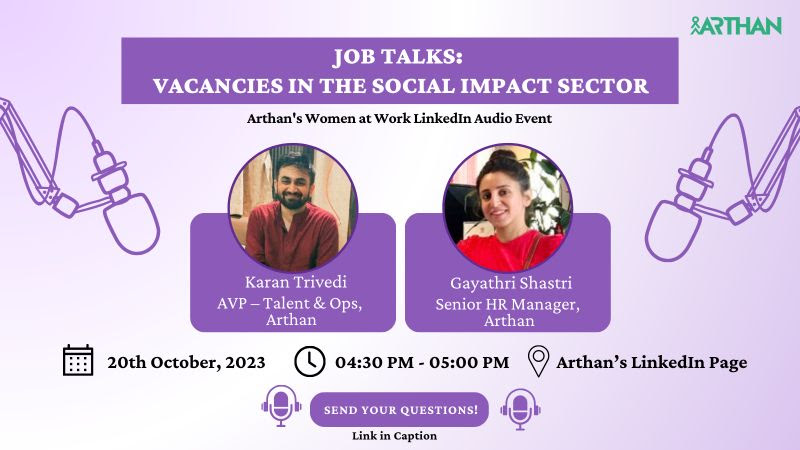 We were excited to host our first LIVE LinkedIn Audio event – 'Job Talks: Vacancies in the Social Impact Sector'. Arthan's Talent Acquisition Experts, Karan Trivedi (AVP – Talent & Ops, Arthan) and Gayathri Shastri (Senior HR Manager, Arthan), addressed the attendees and shared insights to improve and strengthen their job applications. The event saw an overwhelming response, with 705 people tuning in and many posed questions which the panel answered. This event was an eye opener for us which revealed the many challenges faced by jobseekers, and has led us to prioritise many more such engagements for our community. Stay tuned for more!
---
November Readings
Click on the creatives below to access the content for further reading and exploration.
---
Work Opportunities for Women
We bring you some exciting job opportunities seeking out or actively prioritising women candidates. Click the links below to apply –
Arthan Ecosystem:
Other Job Opportunities:
---
Women-Worthy News of the Month
1. Sveriges Riksbank Prize in Economic Sciences in Memory of Alfred Nobel 2023 awarded to Claudia Goldin (Harvard University)
Claudia Goldin's extensive research analyzes over two centuries of US data on gender disparities in the labor market and highlights significant underrepresentation of women and income inequality. Her groundbreaking research provides valuable insights into historical and evolving factors contributing to this disparity. Here are some things addressed and shown by her through research –
She shows that female labor force participation does not follow a consistent upward trend but rather forms a U-shaped curve, with involvement of married women decreasing during the transition from agrarian to industrial society in the 19th century but rising again with the growth of the service sector in the 20th century.
Attributing these shifts to changes in social norms and roles, she demonstrated that, throughout the 20th century, women's education levels steadily outpaced those of men.
Despite modernization, economic growth, and increased female workforce participation, the gender earnings gap, she demonstrates has persisted, at least partly, due to the educational choices and expectations shaped by previous generations, slowing progress.
2. McKinsey Report – 'Women in the Workplace'
McKinsey & LeanIn.Org's 'Women in Workplace 2023' report highlights progress in women's representation in senior leadership but reveals ongoing challenges at mid-level career stages, especially for women of color.
The report highlights common myths about women's workplace experiences, emphasizing women's ambition, the "broken rung" as a major obstacle, the significant impact of micro-aggressions, and the universal desire for flexible work arrangements.
The report recommends companies to track women's progress, support and reward managers for diversity and inclusion, combat micro-aggressions, fine-tune flexible work models, and address the "broken rung" to curate gender equity and inclusivity in the workplace.
---
Conversations of Change – Transforming Thought Leadership in the Social Impact Space
Our Conversations of Change consists of video interviews with leading thinkers and practitioners from the field of social impact, and showcase perspectives and practices surrounding women's leadership in the development sector workforce. Episodes feature conversations with women leaders who are engineering positive change in the social sector through their work and words.
Ashima Mittal is currently the CEO of Zilla Parishad in Nashik, who is committed to fostering better schools in the region and improving educational landscape. Discover more about her inspiring journey in this featured episode where she shares her valuable experience collaborating with women Sarpanches.
---
Monthly Motivation
Spreading moods of motivation, one quote at a time!

"In order to get more women in leadership roles in the non-government sector, we must help create a nurturing space which also caters to life-cycle needs, such as maternity. If we focus on nurturing, we will get more women in leadership."

– Ms. Renana Jhabvala (Chairperson, SEWA Bharat) at Arthan's She the Change Conference, July 2023
---
To discuss ideas, explore synergies, and co-create collaborative intent, interactions and interventions around women's leadership and gender-transformative workplaces in the development sector, write to us at letstalk@arthancareers.com.