How this San Francisco-headquartered open-source platform is providing a chatbot to NGOs
Recently, many companies, NGOs, and e-commerce platforms are turning to online chatbots to assist customers and users at any time of the day.
In fact, during the COVID-19 pandemic, many NGOs leveraged social media apps, like WhatsApp, to form groups for communication. However, there were limitations to these groups due to the limited participants.
To address these problems, San Francisco-headquartered Glific — an open-source, two-way communication platform for NGOs — was created in 2019 to smoothly connect and communicate with their beneficiaries. The code for the platform can be downloaded for free.
Glific is developed under the Project Tech4Dev initiative of the Chintu Gudiya Foundation. In India, two Tech4Dev partners working on the platform as core teams — ColoredCow, Maverick Labs along with a group of interns from UC Berkeley.
The platform aims to empower social organisations to act quickly on information through a host of features — from automated responses to comprehensive analytics.
"We've put the needs of the NGOs first while building this product. From the first day, NGOs are involved to shape the product, hence making it highly relevant for the social impact sector," says Donald Lobo, Founder, Glific.
How it works
"We're using advances in software stack such as using WhatsApp business API, natural language processing, automated conversational experiences, and deploying services as a platform," says Abhishek Sharma, Product Manager, Glific.
The platform uses the existing communication protocols, such as the widespread network effect of WhatsApp, to build a platform that meets the needs of NGOs.
NGOs usually have a contact number where people can connect with them. Using this number, Glific creates a chatbot interaction for users who have queries regarding the organisation — donations, volunteering, classes, benefits, etc.
The NGO members note and address these queries, which are also used to automate a chatbot response to guide the users in the future. With the phone number and chatbot in place, NGOs can communicate with their beneficiaries smoothly.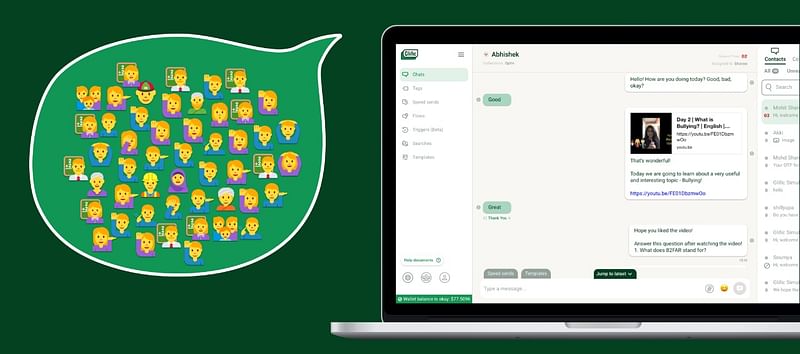 At present, Glific is working with 25 different NGOs, including Reap Benefit, WeUnlearn, Dost, and Avanti, among others, providing them with chatbot solutions.
In fact, Reap Benefit leveraged Glific to create a COVID-19 chatbot to reach out to about 50,000 of its beneficiaries and helped find resources like beds, COVID-19 tests, etc.
In terms of the costs, the NGOs can use the open-source platform for free. However, since the platform is hosted on WhatsApp Business API, the cost depends on the Business Service Provider (BSP).
Glific also uses Gupshup as the BSP, which charges about Rs 0.75 per message, and for volumes beyond 750,000, it charges only for Highly-Structured Messages (HSMs).
Besides, for the ColoredCow-built SaaS platform, the NGOs are charged a monthly price of Rs 7,500 for the platform.
Glific has received funding from the Omidyar Network and has applied for more grants to develop the software.
To read more, click here