How is AI shaping work, and how are professionals and companies adapting to it
Source – Future of Work Report: AI at Work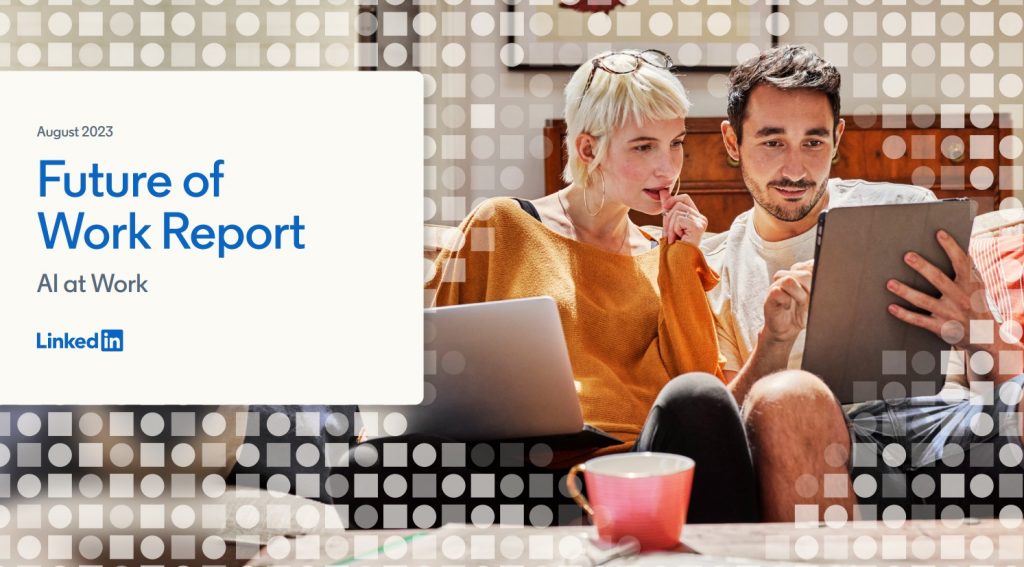 LinkedIn's "Future of Work Report: AI at Work" reveals current trends in AI's impact on the world of work, drawing insights from 950 million professionals globally. LinkedIn data indicates a double trend: a rise in job postings and a surge in members globally incorporating AI skills into their profiles. Generative Artificial Intelligence (GAI) technologies like ChatGPT are poised to revolutionize work by automating tasks, enhancing communication, improving decision-making, and enabling more efficient and personalized workflows across various industries. 
This article will examine the primary trends outlined in the report.
The Intersection of AI and the World of Work
Job postings referring to emerging AI technologies are experiencing a significant surge. The percentage of global English-language job listings mentioning GPT or ChatGPT has skyrocketed by 21 times since November 2022. Professionals and organizations are increasingly integrating AI-assisted technologies like ChatGPT into their daily operations and adjusting their workflows accordingly. Investing in understanding how GAI can enhance efficiency and minimize the time devoted to repetitive tasks can yield productivity benefits for both employers and employees.
To adapt to the changing landscape driven by AI and GAI, employers must prioritize upskilling and reskilling professionals to enhance AI literacy. In 2022, some of the fastest-growing AI-specific skills on LinkedIn profiles were related to GAI, like question answering and classification. This surge in skills, along with increased job postings and platform discussions, signals heightened competition for specialized AI roles. Since many of these roles lack traditional degree paths, hiring based on skills will be crucial. Businesses need a clear understanding of their existing and required skills to recruit and upskill employees effectively.
Acceleration of AI skills across industries and geographies
LinkedIn members worldwide are now incorporating AI skills into their profiles at an unprecedented rate. According to the AI Skills Index data from 25 countries, by June 2023, the number of members with AI skills had surged to a staggering 9 times the figure recorded in January 2016. Notably, countries like Singapore, Finland (16x), Ireland (15x), India (14x), and Canada (13x) are witnessing the most rapid spread of AI skills. Additionally, AI skills are no longer confined to the tech sector but are increasingly being adopted across various industries, including retail, education, financial services, and more.
Executive and Employee Sentiment
Regarding AI, senior executives express optimism about its potential to boost productivity and revenue, even though the long-term organizational transformation remains uncertain. AI is already driving significant changes in the workforce, prompting both professionals and companies to adapt. Those companies that embrace AI and facilitate upskilling for professionals to navigate these changes are likely to attract and retain top talent effectively.
Apprehension is a common response to technological shifts, and AI is no different. However, professionals are largely enthusiastic about the potential of AI tools to enhance productivity and lessen their workloads. Microsoft's 2023 Work Trend Index Annual Report reveals that a significant majority, 70%, are open to delegating tasks to AI to alleviate their work burden.
Maintaining Human element
People skills are gaining paramount importance. Following the introduction of ChatGPT, the fastest-growing skills in US job postings now include qualities like flexibility and ethics. This underscores the central role of people skills in fostering collaboration in the workplace. Remarkably, 92% of US executives concur that these people skills hold greater significance than ever before.
As AI continues to advance in the workplace, the key to success lies in striking a balance between harnessing the benefits of automation and maintaining the essential human element in the workplace. By focusing on skill development and fostering collaboration, the workforce is better poised to thrive in this evolving era of work.