Where do you begin if you don't know anything about the development sector?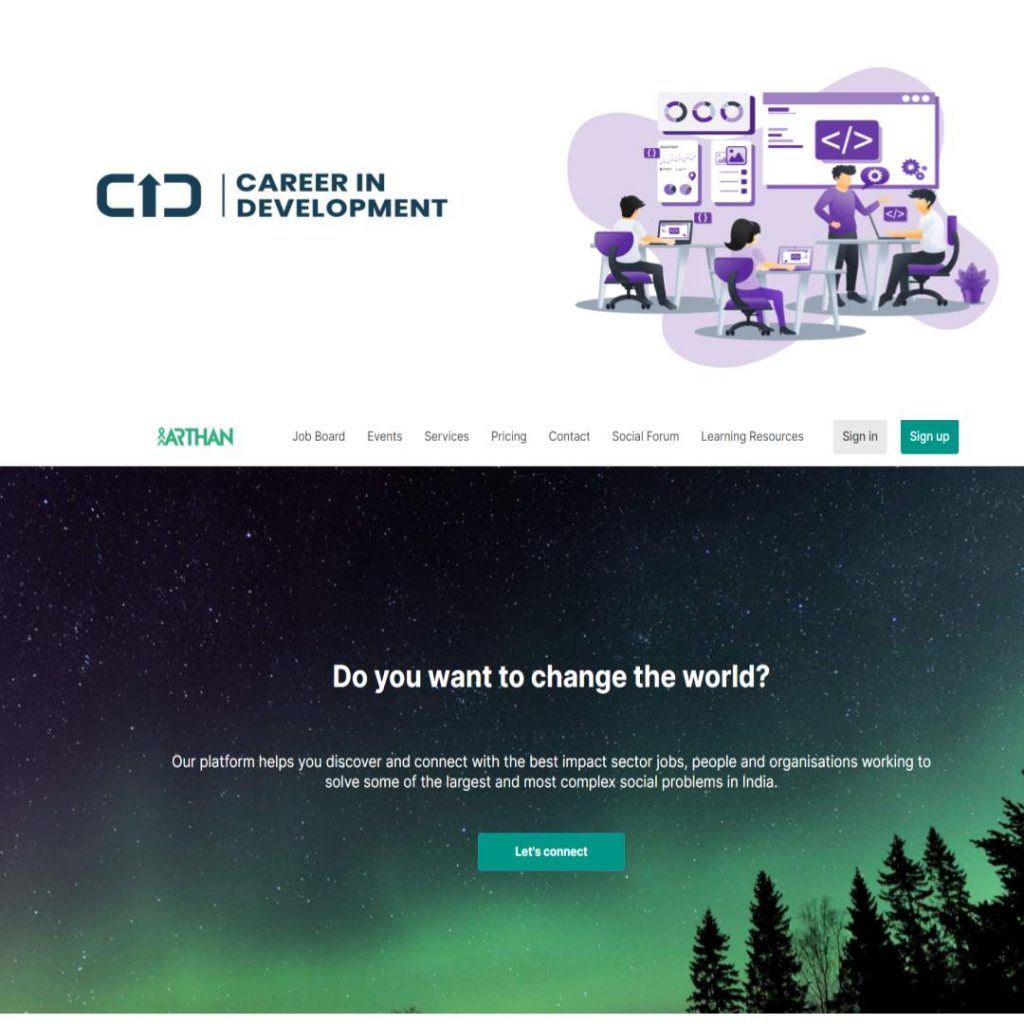 In recent years, there has been an increase in the number of young professionals seeking to engage in work that contributes to social impact. This has often been a gradual trend, often sparked by a desire to address the challenges that they witness around them and build a meaningful career in the process. For those who have been waiting to take the plunge, there is good news. The growth of the development sector over the past couple of years as well as the increasing need for talented professionals to address the new challenges posed by COVID has made this an ideal time for transitions into this space.
Once they have decided to work in the social impact space, many of those I have spoken to often find it difficult to decide where and how to begin. While people from well-known colleges or corporate firms have strong networks and access to resources to help them through this process, it can get confusing for those outside these limited circles. However, it is fairly easy to discover the myriad opportunities available once you get started with the process. Here are a few steps that you can take in your endeavors to understand, try out, and eventually join (I hope!) the development sector.
Access online resources: There are plenty of resources about the development sector available online. Some of these portals help you get an overview of the sector as a whole (India Development Review, Women in Econ/Policy) while others are more focused on career development (Career in Development, Network Capital) or jobs (Devnetjobs). Arthan's own platform has extremely helpful content across all three categories. One can follow these platforms on social media as well as subscribe to the newsletters to be updated about their latest information.
Understand different roles and organizations in this space: The development sector is becoming increasingly specialized, and the kind of work, experiences, impact, and professional development opportunities available will vary depending on the role and organization that you are a part of. To understand the different options better, you could take a look at our playlists on different roles and organizations, take a look at the development sector landscape, or read this IDR article.
Speak to people who are doing work that interests you: Informational interviews are an extremely underrated tool for career planning. It is likely that the doubts that you're currently going through have been held by many before you. A quick LinkedIn search will help you find people who have been doing work that you find interesting, and thus would have all the insights that you would need during your decision-making process. It'll help you be much better prepared not only for interviews, but also for the job itself. If you speak to them to understand more about their role, organization, career path, and area of work as a whole. However, when you request for time from someone, be sure to offer context and request for specific information that cannot be found online. As a starting point, you can also listen to our Career Podcasts where experienced professionals share about their roles and journeys, which can help you get a range of ideas on how you can shape your career.
Try out activities or projects of your interest on a small scale: If you are wary about diving into a particular role or area even after all your research, you can dip your toe into the space to see whether you would like to make a full-time commitment. Almost everyone who works in the development sector starts off volunteering, working part-time, or by studying related subjects. Alongside your day jobs, younger professionals can get involved in short-time projects, volunteering, consulting, or trying out free online courses. While these should ideally be low-effort, low-cost trials, the exact kind of work that you take up would depend on your interests, your concerns about the space, and the time and resources that you have the ability to spend.
Finally, based on the information that you are able to gain through the previous actions, you can reflect to understand where your strengths and interests match against the opportunities in this space. No matter what cause or role you are passionate about, the development sector will offer you ample opportunities to participate!
Manasa Acharya is the Co-Founder of Career in Development, a platform that aims to bridge the information gap about social impact careers by providing structured and comprehensive content for all. She is a Young India Fellow and has been working as a development consultant for the past four years.