Is your organisation missing revenue for lack of sustainability generalists?
By Alice Karlo.
The underrated skill-set both business and impact leaders ought to heed.
When it is about sustainability, both solution providers and forward-looking businesses seem to place all their bets on sustainability specialists – the carbon, energy or water footprint experts, and so forth. As a result, many seem to be losing out on millions of dollars in revenue.
I'll illustrate my point by deep diving into a case study, I recently carried out for an ESG reporting software provider (let's call them the Company).
The ESG software provider that could have doubled its revenue
The Company delivers an end-to-end sustainability data solution – from ESG reporting to tracking ROI for sustainability initiatives or supplier engagement data. Its challenge is that it hasn't been profitable, and has been struggling to grow existing accounts through cross-selling or upselling.
To analyse the product-market fit, I segmented the audience along maturity of the clients' sustainability agenda[1]. Having inferred the Activities, Gains, Pains and synthesised the Value Proposition for each group, I spotted the issue: the higher the maturity level, the less the clients' needs centred around data, and the less addressable they were by the Company's core offering. The more advanced the function, the more it would benefit from broader consulting offerings.
---
Figure 1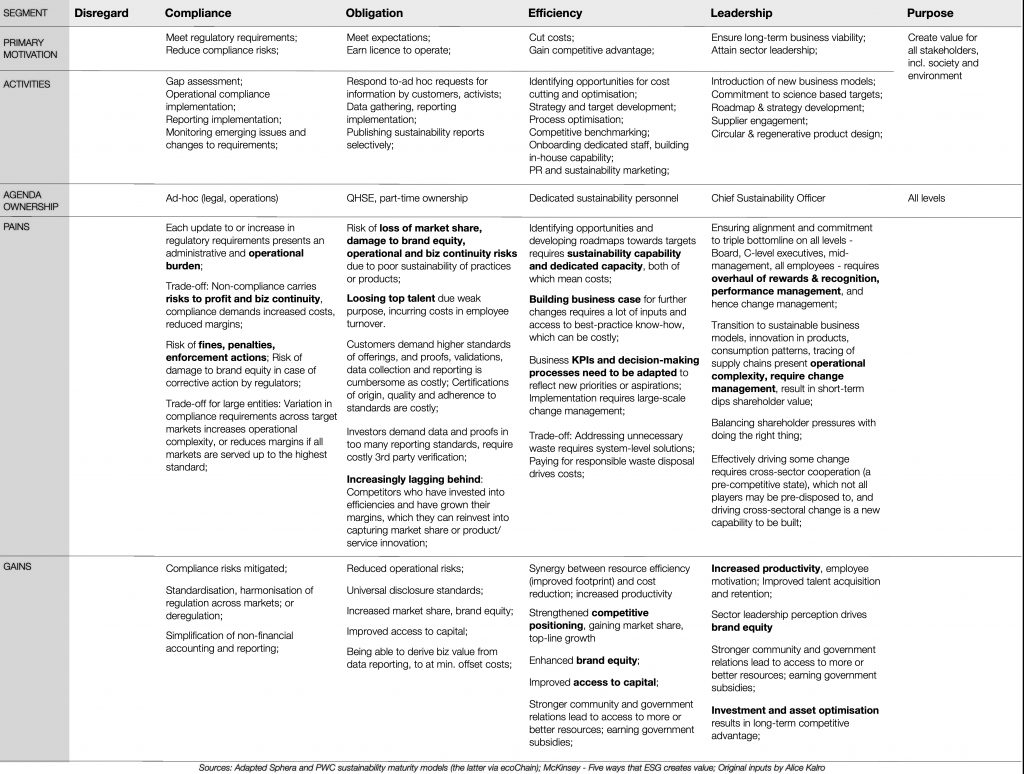 Due to this gap, the Company was highly likely to lose its most mature clients to the Big 4 or Big 3. The scenario presented a few opportunities for the management:
One, by rolling out productised consulting offerings, the Company would tap a much larger market. The ESG reporting software market is valued at about $ 900 million; the sustainability consulting market falls between $ 8-10 billion, about 10x the size. Further, the more mature segments spend multiples of the disposable budgets of their novice counterparts.
Two, the Company would unlock up-selling opportunities by accelerating their clients' transformation via these productised offerings – more mature functions would pay for more advanced features of the provider's platform. For example: For an Obligation client to graduate from ESG reporting to measurement of sustainability initiatives (Efficiency), they'd require guidance on how to derive business value from ESG accounting – through growing their top-pline, reducing costs, earning subsidies, boosting productivity and optimising investments. This field of advisory is generic enough to be productised, and mass-personalised. See more examples of this principle in the chart below.
---
Figure 2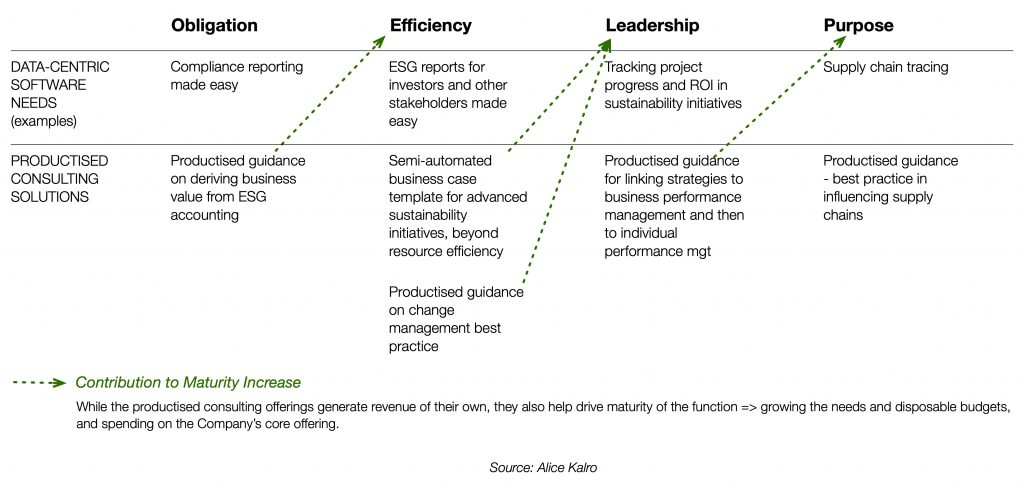 There was also a challenge:
While the Company's account managers were well-equipped to drive client success in specialist arenas – such as selecting the relevant reporting framework(s) – they had little thought leadership to offer on driving an overall sustainability transformation – reinventing business models, implementing circularity in product and supply chain design, aligning incentives across levels. As a client matured, the Company's customer success function would fall out of step.
I estimate that the Company forfeits around $10.3 million in revenue:
Near $6 million in annual revenues from low capex productised consulting solutions to the needs the Company currently doesn't cater to, from the North American market alone (likely double that if rolled out also in the EU and other developed markets).
Additionally, if through these auxiliary offerings the Company managed to convert 25% of its Compliance clients to Obligation, and 25% of Obligation to Efficiency, it would materialise approx $4.3 million in incremental annual revenue from its core product, at no further investment.
These numbers combine to nearly 100% of incremental revenue for the ESG reporting vertical for the Company, and 40% of its total revenue.
The missing link: Sustainability generalists
What is the capability gap behind the Company's inability to introduce these lucrative offerings and to drive maturity of its clients, growing their spend with the provider? Can we infer the missing skill-set?
I'd list cross-functionality, business case building, systems thinking, and a broad understanding of all the sustainability and social impact imperatives any business needs to address. Plus interpersonal skills and stakeholder management for driving maturity on the client side. I've termed this the "sustainable business generalist", or sustainability generalist for short.
This profile can be instrumental in boosting your revenues – as well as to broadening your impact, as I demonstrate below. From my observation, surprisingly few organisations have acquired or nurtured it – suggesting billions of dollars in value that remain untapped, worldwide.
An ailment that affects all the arenas
A private sector example: Recently, an engagement manager from one of India's top 3 technology consulting firms contacted me, asking what learning would equip him to deliver solutions to the sustainability criteria his clients were increasingly articulating. Having recommended some key resources, I wondered why he felt Ihad more pertinent insights to share than the sustainability function of his behemoth employer. Clearly, the function's mandate was to drive compliance and value protection (Obligation), not to upskill its frontline to respond to sustainability imperatives of incoming leads, let alone to proactively pitch such solutions – the business thus failing to create and capture value.
The impact space has been passing up opportunities to deliver outcomes, too. For instance, a leading Indian ed-tech startup, well funded and backed by a major foundation, has acquired tens of millions of users in rural India throughout the pandemic. On track to grow that number to hundreds of millions in the near future, when discussing his vision with me, the CEO was clear on the many layers of impact the provider could drive through its unique liaison to rural households, well beyond learning outcomes. Still, the roadmap seemed completely oblivious to the critical contribution an audience of this size could make to averting the impending climate catastrophe and destabilisation of our planet through behaviour change and mobilisation of consumer pressure.
We stand to gain a lot, in both financial and non-financial value, from looking beyond the more established, specialist profiles when equipping our sustainability, customer facing and strategy functions. Yet, sustainability generalists seem strikingly absent from most organisations I interact with. Why have we had such little success in recruiting them or developing them internally? I'll explain the impediments and necessary steps in my following article.
[1] amalgamating maturity models by Sphera and PWC for segment definition; Activities, Gains and Pains are original ideation. http://3gry456jeet9ifa41gtbwy7a-wpengine.netdna-ssl.com/wp-content/uploads/2020/04/Sustainability-Maturity-Stages.pdf https://ecochain.com/knowledge/sustainability-maturity-model/
[2] Categorisation adopted for McKinsey, https://www.mckinsey.com/business-functions/strategy-and-corporate-finance/our-insights/five-ways-that-esg-creates-value.
About the Author
Alice Kalro is a purpose driven leader, and a senior strategy and implementation consultant catalysing maturity at the intersection of business, sustainability and social impact. She deploys her top-notch pattern-recognition skills to comment and advise on strategic and structural challenges faced by sustainability and development leaders. She has worked with teams and clients across five continents, and lived in Europe, China, and is presently based out of Bangalore, India.