Have an idea to harness generative AI for social impact? Apply here.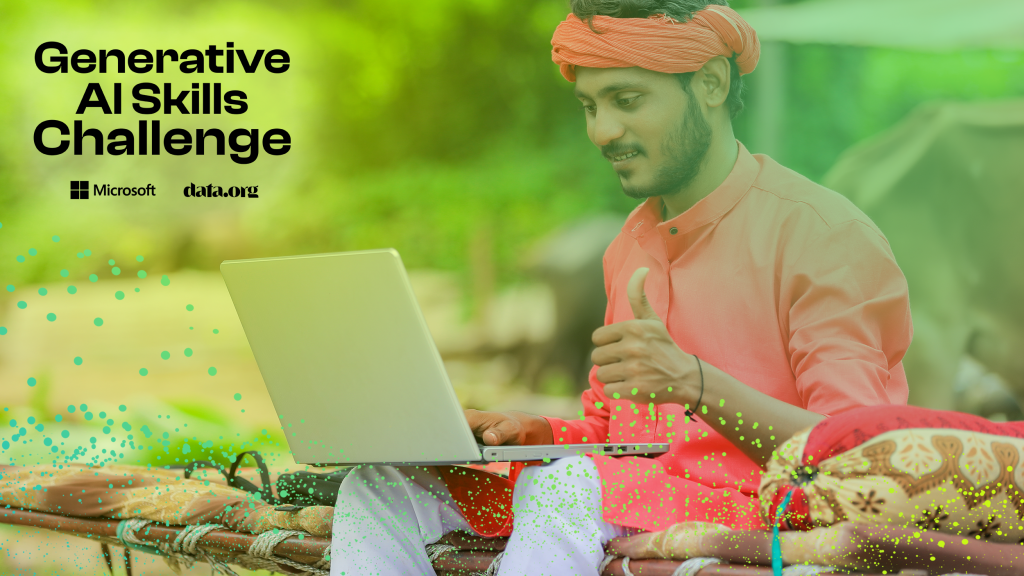 It is no secret that generative artificial intelligence (AI) has the potential to revolutionize how we tackle global challenges thanks to its unparalleled ability to scale. 
"However, we will only realize this tremendous potential if it is applied with an understanding of its limitations and with a strong emphasis on community-led solutions," said Danil Mikhailov, Executive Director of data.org.
Understanding the potential of generative AI to support the social impact sector and placing local data practitioners at the center of the decision-making are the priorities for data.org's recently launched Generative AI Skills Challenge, with the support of Microsoft.
data.org is currently seeking Challenge applications from around the world to explore, develop, and implement ways to train, upskill, and reskill the workforce to use generative AI.
By engaging a diverse range of communities – and with a particular focus on AI's fair and community-led integration in low- and middle-income countries and contexts (LMICs) – this Challenge will work to accelerate digital inclusion, socioeconomic mobility, and skills advancement and acquisition for workers from historically marginalized populations around the world.
Given the complexities that we must tackle to make generative AI work for social good, data.org created a Challenge design philosophy that considers applicants from communities and contexts with systemic inequities and a digital divide. Applicants should, and Challenge judges will, keep in mind the following guidelines by asking:
Does this proposal ensure that generative AI serves the public good by transforming society for the better, uplifting people's lives, and advancing economic growth for individuals in underserved communities? Further growing the digital divide in these communities is not acceptable.

Does this proposal avoid or mitigate the negative aspects of this technology? Our goal should always be to enable local communities to determine the trustworthiness of AI's outputs, and advance the principles of responsible AI.

Is there a clear understanding that one size does not fit all? Inclusivity, diversity, equity, and access (IDEA) must be at the foundation of this work. A diverse range of communities brings expertise to bear on these issues, all of whom must be included in the generative AI conversation. Therefore, to meet the principles of IDEA, the engagement and design strategy should be based on regional representation and associated localized parameters (region as categorized by Microsoft global strategy):
Africa
Asia (includes Australia and New Zealand)
Europe
Latin America
North America
Are people at the center of this work? We are looking to design for people to succeed and grow in data-driven jobs. By ensuring training and upskilling are a critical part of this work, we will be able to appropriately fund and build an infrastructure that includes technical resources and assistance, and membership within an enabling ecosystem or community.
With this approach, applicants should ask questions such as: What does this mean for the worker (especially frontline workers) in this region? For local industries? How will the skills be introduced to the workforce (including addressing language barriers and translation needs)? Is the workforce ready to absorb this technology as is? How does it handle existing concerns that AI will replace humans?
Does this proposal strike a balance between technology and society (sociotech)? As we work to achieve IDEA, we must acknowledge the digital divide as well as the infrastructure problems and differing policy perspectives exist across regions. Even if organizations lack access to large datasets, quality data, necessary tools, or data science expertise and resources, we must still encourage their ideas for new approaches to solving local problems.
In addition to financial support, the awardees will receive access to cloud computing resources, technical guidance from Microsoft AI experts, and data training. Nonprofit organizations, social enterprises, and academic / research institutions strongly dedicated to creating upskilling opportunities in generative AI are encouraged to apply.
Submissions are welcome from organizations with extensive technical experience, as well those with an emerging and locally unique idea for advancing the workforce and closing the digital divide through the use of generative AI. data.org and Microsoft will share with the broader community the rubrics and best practices used to judge the applications and select the eventual awardees.
The Generative AI Skills Grant Challenge is now accepting applications. The deadline for initial proposals to the Challenge will be August 15, 2023.
To learn more and participate, visit data.org/challenge.