Towards a Vibrant Evaluation Ecosystem: Creativity, Collaboration and Convergence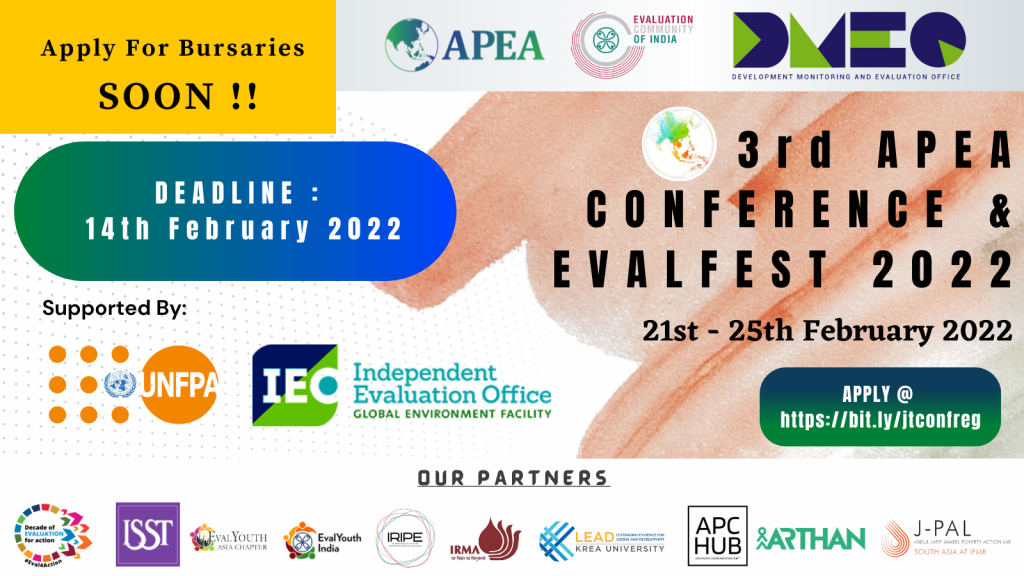 New Delhi, India (in virtual mode)
21st – 25th February 2022
Background
The Asia Pacific Evaluation Association (APEA) is a regional evaluation network that aims to improve the theory, practice, and use of evaluation across the Asia-Pacific region. The Evaluation Community of India (ECOI) is a voluntary organization of professional evaluators, established in 2015 with the objective of promoting evaluation culture in the country and contributing to evaluation capacity building. The Development Monitoring and Evaluation Office (DMEO) is an attached office of NITI Aayog. Constituted in September 2015 by merging the erstwhile Program Evaluation Office (PEO) and the Independent Evaluation Office (IEO), DMEO works to fulfill the monitoring and evaluation (M&E) mandate and to build the M&E ecosystem in India.
The three bodies have now come together to organize their first joint 'evaluation knowledge-sharing event, "The 3rd APEA Conference and EvalFest 2022" which will be during February 21-25, 2022. The event will be conducted in virtual mode.
The theme of the Event
The adoption of Sustainable Development Goals (SDGs) as the global development agenda has injected a sense of urgency in the field of evaluation. Given the enormity and transformative nature of changes envisaged in these goals and the massive deployment of resources they imply, generation of high-quality evidence on what works and to what extent and, more importantly, its utilization in shaping policies and programmes is essential to ensure that nations are on the right development path.
Structure
The event is spread over 5 days – 21st to 25th February 2022. The main conference will take place from 23rd to 25th February 2022, while on the first two days (February 21 & 22, 2022) capacity building workshops will be conducted. Each workshop will be for half a day. During the main conference, each session of around 90 minutes will have presentations by either individual or panel (of 3 to 5 presenters) followed by Q&A.
The OpenSpace will provide an opportunity to a number of young evaluators, innovators, and other participants to showcase their ideas and products in short presentations of 15 – 20 minutes followed by Q&A.
For more information, please write to
▪ Asela Kalugampitiya, President, APEA apeaeval.president@gmail.com
▪ Madhuka Liyanagamage, APEA Coordinator, apea.coordinator@gmail.com
▪ Rajib Nandi, Co-leader, ECOI, rajib@feministevaluation.org
▪ Rashmi Agrawal, Co-leader, ECOI, rashmi.agrawal56@gmail.com
▪ Yatin Diwakar, Co-leader ECOI and EvalYouth India, yatindestel@gmail.com