Budget 2022 Updates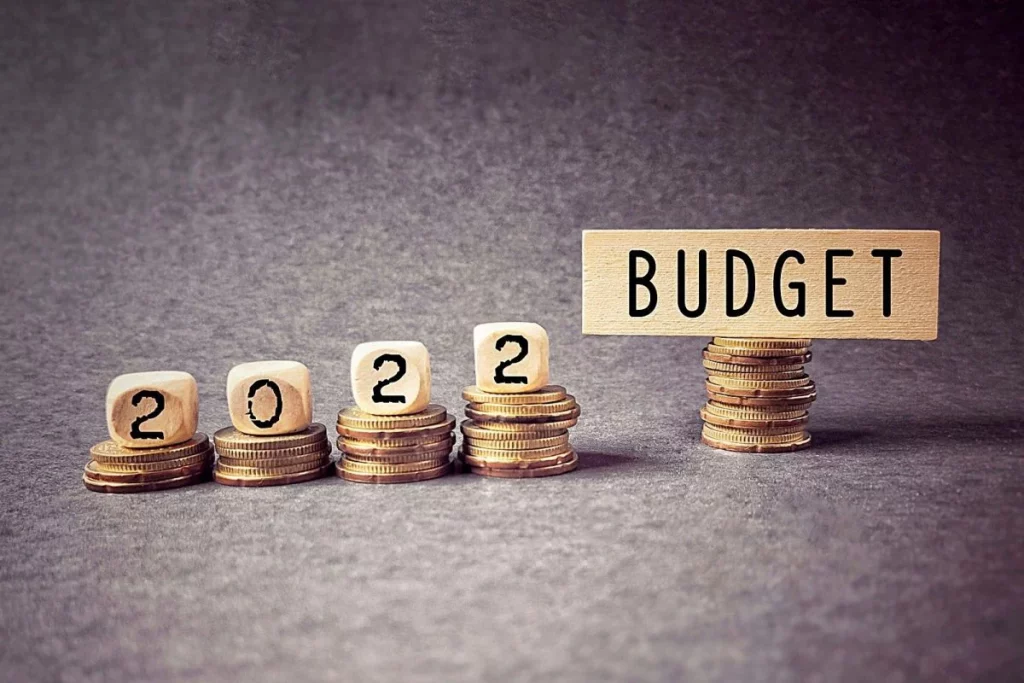 Finance minister Nirmala Sitharaman on Feb 1st, 2022 unveiled budget for the fiscal year 2022-23.
Finance Minister Nirmala Sitharaman, while presenting the Union Budget, said that the country is expected to grow at 9.27 per cent in the coming year. With a focus on four pillars of development — inclusive development, productivity enhancement, energy transition and climate action — the Budget gives a blueprint of the economy from India at 75 to India at 100, Sitharaman said.
Budget 2022 highlights:
The Finance Minister mentioned that there was a sharp increase in public investment and capital expenditure in Budget 2021-22. This Budget (2022-23) will benefit the youth, women, farmers, and the backward classes. She also mentioned that the PM Gati Shakti master plan will guide the process.
Sitharaman stated that digital rupee will be issued using blockchain technology by the RBI starting 2022-23 and this will further give a big boost to the economy.
Agriculture: The FM said procurement of wheat in Rabi season 2021-22 and the estimated procurement of paddy in Kharif season 2021-22 will cover 1,208 lakh metric tonnes of wheat and paddy from 163 lakh farmers & Rs 2.37 lakh crores will be the direct payment of MSP value to their accounts.
– Chemical-free Natural Farming will be promoted throughout the country, with a focus on farmers' lands in 5-km wide corridors along river Ganga, at the first stage.
– 2023 has been announced as the International Year of Millets. Support will be provided for post-harvest value addition, enhancing domestic consumption, and branding millet products nationally and internationally.
– To reduce our dependence on the import of oilseeds, a rationalised and comprehensive scheme to increase domestic production of oilseeds will be
implemented.
– For delivery of digital and hi-tech services to farmers with involvement of public sector research and extension institutions along with private agri-tech players and stakeholders of agri-value chain, a scheme in PPP mode will be launched.
It was also mentioned that a fund with blended capital raised under co-investment model facilitated through NABARD to finance start-ups in agriculture and rural enterprises for farm produce value chain will be set up. States will be encouraged to revise syllabi of agricultural universities to meet needs of natural, zero-budget and organic farming, modern-day agriculture.
Sunrise Opportunities
Sitharaman underlined that PM Gati Shakti is driven by seven engines: roads, railways, airports, ports, mass transport, waterways and logistics infrastructures. The minister added that all seven engines will pull forward the economy in unison. Besides PM Gato Shakti, Sitharaman said the other three priorities will be "inclusive development; productivity enhancement and investment, sunrise opportunities, energy transition, and climate action; and financing of investments".
During the speech, it was highlighted that government contribution will be provided for R&D in "sunrise opportunities". Artificial Intelligence (AI), Geospatial Systems and Drones, semiconductor and its ecosystem, Space Economy, genomics and pharmaceuticals, green energy, and clean mobility systems have a lot of potential to assist sustainable development at scale and modernise the country.
Skill Development
Skilling programmes and partnership with the industry will be reoriented to promote continuous skilling avenues, sustainability, and employability. The National Skill Qualification Framework (NSQF) will be aligned with dynamic industry needs.
Digital Ecosystem for Skilling and Livelihood – the DESH-Stack eportal – will be launched. This aims to empower citizens to skill, reskill or upskill through on-line training. It will also provide API-based trusted skill credentials, payment and discovery layers to find relevant jobs and entrepreneurial opportunities.
National Tele Mental Health Programme

The pandemic has increased mental health problems in people of all ages. To better the access to quality mental health counselling and care services, a 'National Tele Mental Health Programme' will be launched. This will include a network of 23 tele-mental health centres of excellence, with NIMHANS being the nodal centre and International Institute of Information Technology-Bangalore (IIITB) providing technical support.
Energy Transition and Climate Action
The risks of climate change are the strongest negative externalities that affect India and other countries. The low carbon development strategy as enunciated in the 'panchamrit'is an important step towards sustainable development.
This strategy opens up huge employment opportunities and will take the country on a sustainable development path. This budget proposes several near-term and long-term actions accordingly.
Solar Power
To facilitate domestic manufacturing for the ambitious goal of 280 GW of installed solar capacity by 2030, an additional allocation of ` 19,500 crore for Production Linked Incentive for manufacture of high efficiency modules, with priority to fully integrated manufacturing units from polysilicon to solar PV modules, will be made.
To read about the budget in detail, click here